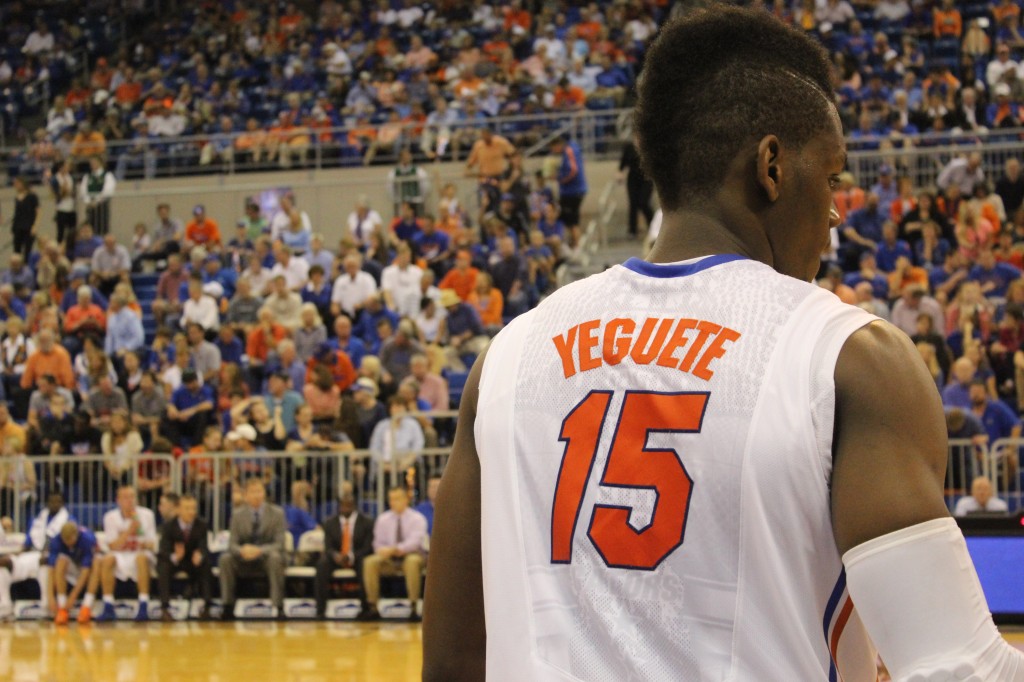 photo credit: Trevor Sikkema
Will Yeguete was one of five Gators who scored in double digits in the team's home win over Alabama Saturday afternoon
College basketball games have a tendency to be told as a tale of two halves. But for Florida's 78-69 win over Alabama on Saturday afternoon, it was more like a tale of 1,000 runs.
Florida started the game out on an 8-0 run, shooting 100 percent from the field, and looking much more relaxed and comfortable than they did against Missouri last Tuesday.
But that trend didn't last long as Trevor Releford put on a great first half shooting performance, helping Alabama tie the game at 18-18 and eventually giving them a 28-21 lead.  He ended up scoring 25 points on the day.
After the game, Florida's Casey Prather talked about coming out and commanding the game for the entire first half — something they failed to do.
"The biggest concern was just us coming out and really ready to play in the moment. I feel like we came out a little slow," Prather said. "Even though we got an early jump, they were the aggressor."
The half would end at 36-36, a score very fitting of the half that was played. It was one of the highest scoring halves the Gators have given up in 2014, and Florida head coach Billy Donovan praised his former assistant head coach — now Alabama head coach — Anthony Grant for playing Florida shot-for-shot.
"I thought their scheme in terms of how they attacked us was very very good," Donovan said. "I thought Anthony (Grant) did a great job; I thought his staff did a great job. The one thing I admire about Alabama is, they've had the second toughest schedule in the country… you have two guys that are really really good players that are no longer in their program…. those kids (there now) battle and fight every game; they give themselves a chance."
Though Alabama managed to make it a close game throughout, the last time the score would be tied was at 41-41, and a 3-pointer from Gator guard Michael Frazier II would set the tone for the remainder of the half.
The Gators finished the game with a season-high 22 assists, something UF guard Scottie Wilbekin said results from being aggressive on offense.
"I think we did a good job of attacking the press for scores, and I think we got a lot of our assists like that. And also, me and Frazier were hitting 3's, so those were easy assists for us," Wilbekin said.
Florida also saw all of its starting five — Prather, Young, Yeguete, Frazier and Wilbekin — score in double-digits.
The game marked Florida's 29th consecutive win at home as well as their 15th victory in a row overall. The Gators will next travel to Tennessee on Tuesday before heading to Lexington, Kentucky on Saturday to face the Wildcats.
For audio on the quotes above, click here:
Casey Prather on starting the game out being aggressive
Billy Donovan praising Alabama's offense