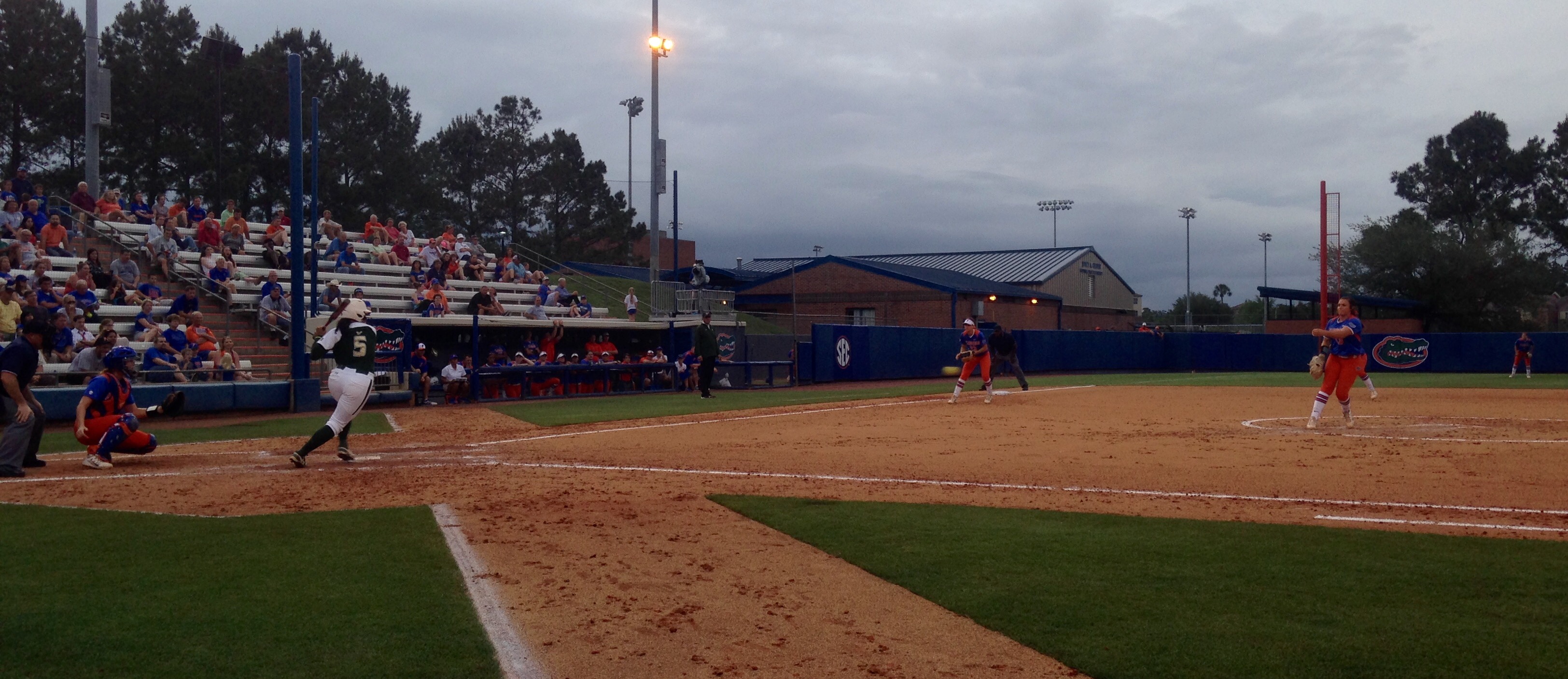 Delanie Gourley closes out the last two innings against USF, earning her second save for the season.
The number two ranked Florida softball team moves to 41-4 on the season after blanking the USF Bulls 7-0 Wednesday in Gainesville.  holding the Bulls to 7-0. Top UF hitter Lauren Haeger is leading the teams RBI's and was walked four times Wednesday night but teammates Taylore Fuller and Justine McLean picked up things on offense for UF.
Fuller says keeping to the basics was key in her performance.
"Just keeping it simple, don't over think everything, if you over think everything you seem to just get worse. It was just stayin' out of my own head, trusting myself and trusting my coaches."
Florida took a 3-0 lead in the first inning. Fuller doubled home two runs and McLean singled in the other run.  In the third, Florida scored twice more on USF errors to go up 5-0.
Ocasio got two strikeouts to close the top of the fifth. Gator coach Tim Walton says she was throwing some good stuff.
"I liked the way that match up went tonight, I thought Lele pitched a great game."
Kelsey Stewart got the bats back in swing in the fourth with a single.  Another error at shortstop for the Bulls puts Nicole DeWitt in a pickle between first and second advancing Stewart to third with DeWitt getting back to first.
According to Walton, the speed of the game forced USF's mistakes.
"A couple of them were us forcing the issue a little bit. They had to speed up what they were trying to do and I think that led to the mistakes."
Lauren Haeger is at the plate next and walked.  Pinch hitter Bailey Castro popped out but Fuller singled over shortstop to plate Stewart and DeWitt.
Sophomore lefty Delanie Gourley enters the game in relief for Florida in the fifth and she blanked USF the rest of the way.
Gourley says that preforming well on the mound was definitely a confidence booster.
"Even if it was just a few innings it was good to go out there and just be myself again and throw well."
Sophomore outfielder Justine McLean says the performance on the mound by Ocasio to start the game also helped the Gator cause.
"Last game they were hitting the ball really well and today we just came out and threw Lele. She really kept them on their toes and she pitched really good today."
Up next for the Gators is a three game series against #11 Georgia., starting on Friday.
For full audio on the above quotes, click below:
Tim Walton on the pitching against USF
Tim Walton thoughts on USF errors
Justine McLean on why they played better this go around