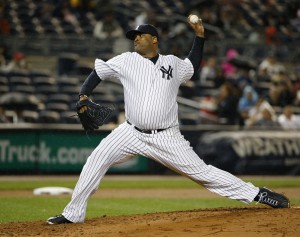 The Houston Astros travel to New York to take on the Yankees in the American League Wild Card game tonight.  The Astros enter the postseason in pursuit of their first ever World Series championship while the Yankees search for their 28th, but before either team gets ahead of themselves they have to focus on winning just one more game to advance to the ALDS.
For the Astros, this will be the first postseason appearance since 2005, when they were swept in the World Series by the Chicago White Sox.  It might appear that they have the momentum entering Tuesday's game, as Houston has won six of their last eight games while the Yankees have dropped six of their last seven.  In the meetings between the two teams this season, the Astros went 4-3 against New York.
To add to the Yankee worries, they will be without pitcher CC Sabathia for the playoffs.  Sabathia checked into an alcohol rehabilitation center on his own accord, the team announced Monday.
"There was no conversation about, 'you know the playoffs are just starting, the timing is not great for us; it was, 'Sabathia's asking for help and we're going to get him the help,' and at that point the conversation about baseball ends," ESPN's Buster Olney said of the timing of the move.
Should the Yankees win the game tonight, the hole left in the rotation by Sabathia's exit will be a major concern for the team moving forward.
The winner of tonight's game will advance to play the Kansas City Royals in the ALDS. The Astros will start Cy Young candidate Dallas Keuchel, while the Yankees will start Masahiro Tanaka. The game starts at 8:00PM on ESPN.