Canucks Televisison Network announces Daniel Sedin winning goal over the Panthers.
The Florida Panthers (26-12-5) 12 game winning streak is officially over, as the team lost to the Vancouver Canucks (17-16-10) 3-2  in overtime Monday night.
The game started off great for the Panthers as center Jussi Jokinen scored the first goal in the first 80 seconds of the game. Florida later doubled their lead with 30 seconds left to go in the opening fame when left winger Jonathan Huberdeau scored.  Florida lost the lead when Daniel Sedin scored the first goal for the Canucks then three minutes left into the third period Jake Virtanen tied the game. The game had to go into overtime. In the first two minutes, Emerson Etem drew a penalty on Jaromir Jagr, giving David Sedin the winning goal of the game.
This game resulted in a sad lost for the Panthers, their twelve game winning streak was the longest in Florida Panther's history.  If the Panthers had won against the Canucks, the Panthers would of been the ninth team in NHL history to win 13 straight games.
#FlaPanthers point streak extends to 13 games, but Cats fall 3-2 in OT. pic.twitter.com/D8WNJT6fvk

— Florida Panthers (@FlaPanthers) January 12, 2016
Panthers goalie Roberto Luongo was pretty upset about the outcome of the game.  Not only did the Panthers lose their winning streak but Luongo lost to his former team.
Daniel Sedin made franchise history when he scored his 346th goal, currently tied with Markus Naslunds.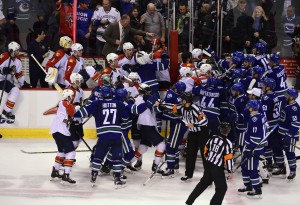 When the game ended, both teams broke out into a fight which resulted in a lot of pushing and shoving.
The Florida Panthers play again when they take on the Calgary Flames (19-20-2) Wednesday night in hopes for another win.