Bengals at Steelers: "Week 2 Championship"
Cincinnati will head to Heinz Field to face rival Pittsburgh this week in what promises to be one of the week's most intense games.  Both teams are 1-0 to start the season, and are the early favorites to win the AFC North title.
This matchup has certainly had a history of fierce emotions, with more than $200,000 in fines being handed out in the past two meetings. The tension reached its peak in last season's wild-card game, when in the final minutes of the contest Bengals cornerback Adam Jones and Steelers assistant coach Joey Porter almost got into an altercation on the field.  Cincinnati Head Coach Marvin Lewis however, wants his team to focus on technique not emotions.
Pittsburgh lived up to their preseason hype in Week 1 and are expected to be a force on offense.   Antonio Brown showed why he is highly regarded as the NFL's best wide receiver.  He caught eight passes for 126 yards and two touchdowns just last week.  The Steelers also have a healthy Ben Roethlisberger at QB, which they were missing at various times last season.  Roethlisberger knows the implications this game has on Pittsburgh's playoff hopes.
Cincinnati has to feel fortunate to have escaped Week 1 with a win, as they beat the Jets largely because of a blocked field goal and a missed extra point.  QB Andy Dalton did put up impressive numbers, throwing for 366 yards and a touchdown.  However, he was sacked seven times and was dropped for a hit on many other plays.  The Steelers did not sack Washington once in Week 1, so the real battle will be between Dalton's offense and the Steelers' defense.
The ramifications of winning this game could be the difference between the Superbowl and potentially being kept out of the playoffs.  Catch kick off on Sunday at 1 p.m.
Chiefs at Texans: "Clean Slate"
The Texans are a new offense in more ways than one and are hoping to forget the Chiefs' domination in last season's Wild Card game.  Kansas City rolled over Houston for a 30-0 victory and limited the Texans to 226 yards while forcing five turnovers.   But, the Texans are a new team.  Houston has a new quarterback in Brock Osweiler, who  passed for 231 yards and two touchdowns in their Week 1 win over Chicago.  They also have running back Lamar Miller, who ran for 117 yards on 32 touches, and two rookie receivers Will Fuller and Braxton Miller. Although the Chiefs defense caused many problems last season, the Texans alsp have defensive weapons in their own right in defensive end J.J. Watt and linebacker Whitney Marcilus, who was named AFC Defensive Player of the Week after producing two sacks and four tackles.  Watt says his team is focused on the task at hand.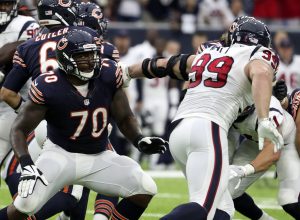 The Chiefs are hoping to add to their win record against the Texans.  They beat Houston twice last season, and the Chiefs will use their dominant running game to try and add a third win.  However, the Chiefs may be without running back Jamaal Charles.  Charles sat out last week in Kansas City's overtime win over San Diego, because he is still recovering from his second ACL injury.  Last year, Spencer Ware and Charcandrick West took over the running game, combining for 1,037 yards and 10 touchdowns.
Tune in to Chiefs vs. Texans on Sunday at 1 p.m.
Colts at Broncos:  "The Champ's Achilles Heel?"
The Indianapolis Colts have reason to head into Denver confident this weekend.  The Colts have won 8 of their 9 last meetings against the reigning Super Bowl champs.  This season, however, may be a different story.
The Colts lost their season opener to the Detroit Lions.  They have a long injury list heading into Denver,  listing 13 players on the injury report. These included cornerback Patrick Robinson, who is recovering from a concussion, and safety T.J. Green, who missed practice time this week because of a knee injury.  Their greatest weapon against a stifling Denver defense is quarterback Andrew Luck.  Luck is 3-1 against the Broncos.  Luck did have an impressive return last week after a lacerated kidney suffered against Denver ended his 2015 campaign early.  He threw for four touchdowns and had almost 400 total yards in a losing effort against the Lions in week 1.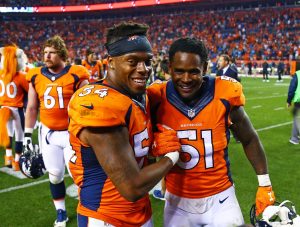 The Broncos' weapon of choice is their defense. The Super Bowl winners will aim to stifle Luck and his high-powered offense.  In last week's Superbowl rematch, the pass rush repeatedly got to Cam Newton on their way to victory.  Denver's new quarterback Trevor Siemian played well in his first career start, throwing for 178 yards and a touchdown.  However, the reigning champions will still surely rely on the defense that won them their Super Bowl ring.
Kick off is set for Sunday at 4:25 p.m.