It was Senior Night for the Gainesville Hurricanes as the Canes beat the Santa Fe Raiders 68-48 in boy's high school basketball on Thursday night.  The Canes continued their dominant season improving their record to 22-2 while the Raiders dropped to 10-10.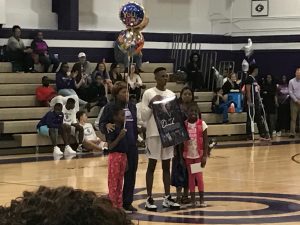 Just before tipoff, the Hurricanes celebrated Senior Night as Derek Owens, Isaiah Wilson, Micaiah Lacroix, Kaijon Scott, Kishon Mayes and Jack Holloway were among the seniors honored. The players were introduced with their respective family members and received plaques in addition to having their high school achievements announced.
Gainesville coach Kelly Beckham on missing his seniors.
First Half
The matchup between the dominant Canes and the very athletic Raiders was a back and forth contest through the first two quarters until the Canes made a run to take a 34-25 halftime lead.
Second Half
The Raiders cut the lead to seven points in the third quarter but in the fourth quarter junior guard Dallas Tealer hit two 3 point shots to help end the Raider comeback. From that point, the Canes built a lead of 20 points and went on to win the contest.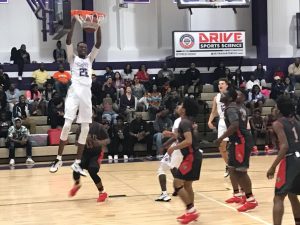 Tealer and fellow junior Christian Miller-Cardwell lead the Canes with 16 points each. Isaiah Wilson chipped in with 13 points while Josh Dudley had 11 points. Jumhan Merricks lead the Raiders with 12 points and Marquez Carter had 10 points in the loss. The Raiders next face the Columbia Tigers on Friday while Gainesville will play city rival Eastside at Santa Fe College at 7:30 PM.
Coach Beckham says he is proud of the effort of his players.
Canes lead 34-25 going into the half. #WRUF850 #GainesvilleHurricanes #SantaFaRaiders pic.twitter.com/BEjumj8G3k

— Mike Brandy (@BWonderBrandy) February 3, 2017