The over/under may be set at 100 for this primetime defensive match-up. On Saturday night at 8:40 p.m., the fourth-seed Florida Gators will take on the fifth-seed Virginia Cavaliers in a contest between two of the top defensive teams in the nation. KenPom ranks UVA as the second-most efficient defense in the nation, while UF comes in at fourth. The game can be seen on TNT and will start after the conclusion of the Xavier-FSU game, which is in Orlando at the Amway Center as well.
Gator Bites
Mike White gets his first NCAA Tournament win ever as Florida beats upstart ETSU. Gators will get Virginia on Saturday. First to 35 wins.

— Jon Rothstein (@JonRothstein) March 16, 2017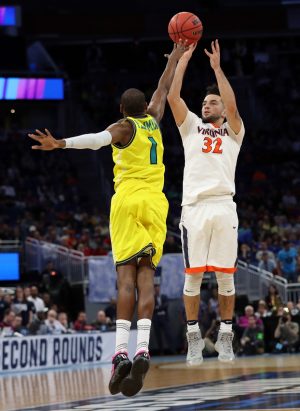 Defense Wins Championships
This season, Virginia allowed less points per game than anybody in the nation. The Cavs are giving up just 56.1 points per game. They've allowed 54 or fewer points 17 times this season, but in their last two match-ups vs. UNC-Wilmington and Notre Dame, they've given up 71 points. Nationally, Virginia ranks 13th in field-goal percentage defense (39.5% allowed), 24th in three-point percentage defense (31.2% allowed) and 20th in scoring margin (+11). The Wahoos also play an extremely clean style, committing the 27th fewest fouls in the country. UVA has only committed 520 fouls this entire season, that's only 15.8 fouls per game.
Smart Offense
Despite ranking 308th in the nation in points per game, averaging 66.9 per game, the Cavaliers' offense is ultra-efficient. UVA ranks 3rd in the NCAA in turnovers committed per game (9.5), 9th in assist/turnover ratio (1.5 to 1) and 18th in turnover margin (+3.3). They're also a quality three-point shooting team with the 24th best three-point percentage in the nation (39.3%).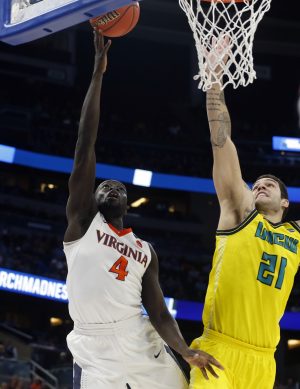 Leading the Wahoo offense is none other than London Perrantes. He's a Wooden Award finalist and the difference between Virginia being an NIT team and an NCAA-caliber squad. Perrantes is averaging 12.9 points, 3.8 assists and 3.1 rebounds per game on 42.2% shooting from the field and 38.2% shooting from downtown. He notched 24 points in the team's most recent game vs. UNC-Wilmington, in which the team overcame a 15-point first half deficit. Perrantes shot 9-14 from the floor in that game and only committed one turnover.
The other difference maker in the Cavs' Round of 64 contest was Marial Shayok, the junior from Ontario. Shayok dropped 23 points on 8-14 shooting. He also went 3-5 from beyond the arc, hitting clutch shots right and left in the second half vs. UNCW.
Transition Opportunities
Both teams are top-27 teams in terms of offensive efficiency, per KenPom, but the Gators get it done differently than the Cavaliers. Florida notched 20 of their 80 total points off of turnovers. They forced 15 ETSU giveaways and excelled in transition. Devin Robinson's several dunks were almost all due to KeVaughn Allen, Kasey Hill, Chris Chiozza and Kevarrius Hayes cutting off passing lanes. Devin Robinson tied his career-high with 24 points, but it was Hayes defensive metrics which stood out the most. The Gators' starting center had a career-high six steals, while also recording seven points and seven rebounds.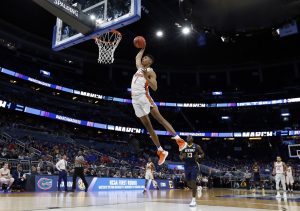 Keys to Victory
If Florida wants to win, they must play a fast-paced game. Virginia excels at shutting down team's halfcourt offense. In a contest that might be won by the first team to reach 50 points, the Gators need to secure an early lead. Despite the 15-point comeback, Virginia's next biggest comeback this season was only seven points. The Cavs have a hard time playing down, but when they take an early lead, can suffocate team's desperate offense.
When Virginia gets their three-point shooting going early, they win games handily. The Cavs were 3-10 from beyond the arc against the Seahawks in the first half and only led by one at halftime because of it. In the second half, Virginia shot 4-7 from downtown and ended up winning the game because of it.
How to Watch and Listen
Saturday night's game is set to tip-off at 8:40 p.m. on TNT, but won't start until the Xavier-FSU game has been over for 35 minutes. That contest starts at 6:10 p.m. You can listen to the game as always on the Gator IMG Sports Network or Westwood One nationally.
Tomorrow. #MarchMadness #OneTeam pic.twitter.com/PaHR71VZEz

— Gators M-Basketball (@GatorsMBK) March 17, 2017