Manchester United came out as 3-0 winners at the Stadium of Light courtesy goals from Zlatan Ibrahimovic, Henrikh Mkhitaryan and Marcus Rashford as Sebastian Larsson from Sunderland got sent off right before half time. The win moved United up to fifth, with Arsenal playing on Monday, while Sunderland remain last, 10 points from safety. This marks the seventh consecutive game Sunderland have failed to score in.
Lineups: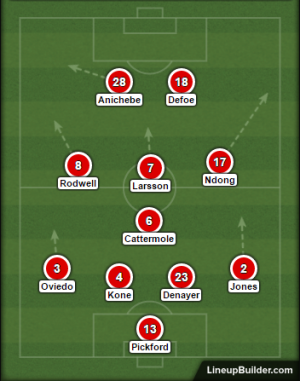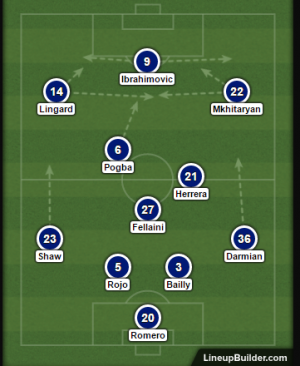 Sunderland made 1 change from their 2-0 defeat at Leicester, starting Anichebe instead of Borini. United made wholesale changes, probably resting players for their quarterfinal Europa League clash with Anderlecht on Thursday. In defense, Romero, Darmian and Shaw came in for De Gea, Young and Blind while Pogba returned to the midfield in place of Carrick. Mkhitaryan also started, in place of Rashford, on the left.
Play-by-Play:
First Half:
The half began with United dominance while Sunderland tried to capitalize on their big man-little man combination upfront. However, this didn't work as United were well stocked to deal with Anichebe's strength and so the first 15 minutes were spent almost entirely in Sunderland's half.
Jesse Lingard had a chance in the second minute as he generated some space for himself on the left edge of the box and took a shot but it was straight at Pickford. Their first decent chance came in the 7th minute when Rojo was pulled down just outside the box. Zlatan took the resulting freekick but it deflected off the wall for a corner.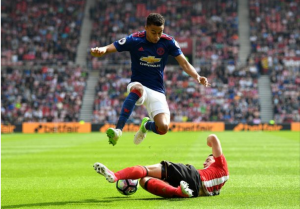 While United dominated territorially, they were unable to carve out the final pass to unlock the Sunderland defense, despite their 77% possession for the first 15 minutes. This led to some frustration setting in and Luke Shaw was booked for a tackle from behind on Ndong in the 14th minute.
Sunderland finally had a chance in the 20th minute from a freekick after Rojo fouled Defoe. However, Oviedo's freekick was too close to Romero.
Breakthrough
United were finally able to open the scoring after some good play from Jesse Lingard, Ander Herrera and Paul Pogba in the 30th minute. Lingard charged through the middle of the field and tried to place the ball low to Pickford's left but he was able to get down and push it for a corner. The resulting corner was poor, but Shaw managed to get the ball to Herrera near the center of the pitch. The Spaniard played the ball to Zlatan on the edge of the box who used his physicality to shield the ball from Denayer. Pogba made a screening run across Zlatan which drew Kone out of position for a split second allowing Zlatan to take a touch, turn and curl the ball low to Pickford's left to make it 1-0.
Zlatan's goal to make it 1-0!
Out of nothing. Where would we be this season without him.pic.twitter.com/EMpSbjRSGV

— Bad Defending (@BadDefending) April 9, 2017
They nearly doubled their lead immediately when Shaw found himself with time and space on the left edge of the box and shot but it was straight at Pickford. At this point, the game was slightly more even with possession being split 64% for United to Sunderland's 36%. Zlatan continued to cause problems as his chipped through ball led Shaw in behind the defense in the box and the left back's low cross found Fellaini in the 6-yard box. However, the Belgian's left-footed shot was blocked by Oviedo.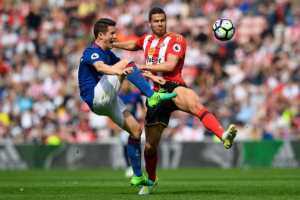 Unfortunately, this was Oviedo's last contribution to the game as he hurt his hamstring in a collision with Lingard in the 37th minute and was replaced by Manquillo. Three minutes later, Anichebe had Sunderland's best chance of the half. He managed to turn Bailly and get a shot off while inside the 6-yard box but his touch was heavy and a charging Romero was able to close the angle and force the ball out for a corner.
There was some controversy in the 43rd minute when Sebastion Larsson was sent off after consecutive rash challenges. He first had a high tackle on Pogba and immediately slid in on Mkhitaryan.
The replays showed that his foot did hit the Armenian's knee but luckily did not make full contact and could have been much worse for Mkhitaryan.
HALFTIME
United were in cruise control with 71% of possession and 10 shots to Sunderland's 4. Ndong and Jones had the most passes for Sunderland with 20 while Pogba and Herrera had the most for United with 45 to illustrate Sunderland sitting back and unable to get out of their half.
Second Half:
United got off to a perfect start in the second half with Mkhitaryan scoring in 48 seconds after a 15-pass move which began from kick off. The goal came after a pass from Shaw on the left side found the winger on the edge of the box before he dribbled into the box and sent a low shot into the far corner of the net with his left foot.
https://twitter.com/HaySport01/status/851109787748241408
At this point Sunderland seemed to be trying to control the damage and pulled Anichebe into midfield leaving Defoe on his own upfront. United also seemed happy to sit back and enjoy their two-goal advantage, as Mourinho teams tend to do. They had no shots from inside the box or on target for the next 15 minutes.
Consolidation
Pogba had a chance in the 60th minute which he should have done better with. On the right flank, Lingard lifted up a bouncing ball to Zlatan in the box. The Swede headed the ball behind him to a charging Pogba whose first time volley was well over. Shaw was brought off for Blind and Lingard was brought off for Rashford shortly after.
Defoe had a similar chance 6 minutes later with similar results. Moyes brought on Borini for Cattermole in a late attempt at salvaging something from the game. The game didn't see any shots for almost the next 15 minutes as United shuffled the pack to deal with the rejuvenated 2-striker system.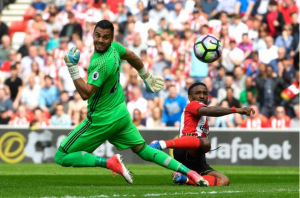 Martial was brought on for Mkhitaryan in the 78th minute which revived the United attack. He nearly scored immediately after a long ball from the defense found his run but his attempted chip was saved. Manquillo had a good chance 3 minutes later as he used some trickery to cut inside of Darmian on the edge of the box but his shot was over the bar.
With the game winding down, there were some unnecessary bookings picked up by both teams. Martial was booked after bringing down Pickford while the goalkeeper was clearing the ball while Ndong was booked for fouling Darmian.
Like in the first half, Anichebe was involved in Sunderland's best chance late in the half. The striker did well on the left side of the box and managed to get a low cross in to an unmarked Defoe in the 6-yard box but the Englishman couldn't get on top of the ball and it rolled wide.
United put the game to bed in extra time after a brilliant counter which began to Pogba. The midfielder played a through ball for Rashford on the right side of the field before the latter played a 1-2 pass with Zlatan before powering in a low shot across the face of the goal from inside the box to wrap up the game.
Rashford madnesspic.twitter.com/8BsbPUj0Pe

— Mad Culture (@MadCulture7) April 9, 2017
FULLTIME: SUNDERLAND 0-3 MANCHESTER UNITED.
Stats:
30% possession 70%
9 Shots 18
4 Shots on Target 9
69% Pass Success Rate 88%
16 Tackles 12
4 Corners 5
Themes of the Game:
Attacking Fluidity
Zlatan has clearly been the tour de force behind United's performances this year, having a part in 22 of their 46 league goals including a goal and an assist today. The key to his success as a striker is being flanked by wingers who are capable of tracking and covering up his movement as he alternates from flank to flank. We saw this with Cavani and Di Maria at PSG and today with Lingard and Mkhitaryan.
Mkhitaryan was listed as a right winger despite spending most of his time in the center and he was actually on the left wing when he scored. The same goes for Lingard who had his best chances on the left wing, owing to he being right footed and able to cut inside, but he spent his time equally across the pitch and moved to the right after Rashford was brought on. Even when Rashford and Martial were brought on, this system continued with Rashford's goal coming from him being on the right despite both of them being first choice left wingers.
This fluidity went beyond the attacking trio due to the attacking-minded midfield. Pogba and Fellaini would use their physical presence to push forward while Herrera would try to play the forward ball from deep. As a result, Sunderland would defend deep with their strikers isolated upfront with no service from the midfield. United's first goal came from Herrera's forward pass and Pogba making a screening run like a second striker.
Owing to the original attacking three being right-footed, there was a tendency to attack from the left flank as it allowed them more space to shoot but left them less space to dribble. This can be seen in Mkhitaryan's goal as well as from 4 of their 7 shots coming from that flank. All of Mkhitaryan's dribbles were attempted on this flank as well along with 11 of United's 15 key passes in the game.
Poor Covering of the Defense
Sunderland has been poor all season and has been dragged through the season by Jermain Defoe's 14 league goals and Jordan Pickford's goalkeeping heroics with him averaging 5 saves a game. A large part of that has been poor defensive work by everyone apart from Pickford. Today, they deployed Cattermole in front of the defense in an attempt at providing cover against the United attack which fluctuated between 3 and 6 players at any point.
However, it was Cattermole's inability to disrupt United's attack that led to them attacking with their entire midfield forcing Sunderland to defend with all hands on deck. Cattermole attempted 5 tackles, 4 were unsuccessful and all were deep in Sunderland's half. He also had the third fewest passes and the least touches for any player who played the full game. This is especially poor given his position in central midfield and the fact that he had the same number of touches as and less passes than Larsson who played less than a half.
For the first goal, he was supposed to provide defensive covering for either Zlatan or Pogba but didn't and chose to play like a sweeper. This forced Jones and Kone to cover up, drawing them out of position which left Zlatan with space to cut in. If he had been playing as his listed position, he would have been perfectly positioned to prevent Zlatan from cutting in. His defensive nightmare continued for the second goal as Mkhitaryan dribbled past him with ease.
When he was brought off for Borini in the 66th minute, Moyes moved back to a 2-striker system with Borini playing right behind Defoe and Anichebe. This helped ease some of the pressure off the defense but, due to the red card, they were still outnumbered in midfield.
Using the Extra Player
Jose Mourinho has become infamous for his penchant for defensive play at the expense of attractive, attacking football. Whether or not this reputation is accurate is a whole other debate, but what's agreed upon is his knack of shutting down games and capitalizing on opponent disadvantages. After Larsson's dismissal, United capitalized on their extra player to play out the game with minimal opposition risk.
The most basic way United accomplished this was through their passing. Their extra player was in midfield and so, they kept the ball in that part of the field to draw Sunderland defenders and strikers out of position thereby creating more room on the pitch. Pogba, Herrera and Fellaini had 238 passes between them, the entire Sunderland team only managed 233. In addition to this, 302 of United's 580 passes were in the midfield. The gap in midfield also explains why Mkhitaryan and Lingard chose to play more centrally and also why Zlatan would drop deeper as the trio sought to overload Sunderland's midfield with offensive pressing.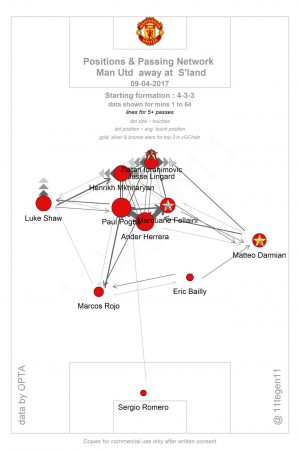 The possessional changes also highlight and explain how United kept control of the game. United finished with 70% possession but that was not a constant figure. Sunderland were generating some good movement and interplay during the middle portions of the first half and at that point, enjoyed 36% of possession. However, after the sending off they were fine with just trying to minimize damage. The impact of the extra player can be seen in the third goal which, unlike the first two, was the result of a quick counter. As soon as Pogba got the ball, it was 4v4 even though the ball was in United's half. After his pass, it turned into a 3v2 with Zlatan, Martial and Rashford against the last 2 Sunderland defenders.
Player of the Game:
Zlatan Ibrahimovic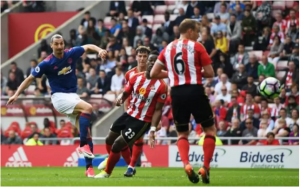 The Swedish captain continued his spectacular form with a goal and an assist. Three headers, a tackle and a clearance showed off his defensive capabilities as well. He had three shots as well with two on target. He had a poor start to the game but he showed how important he is to the team as the form of Manchester United seemed to fluctuate based on his performance. For example, he didn't have a touch of the ball between the 71st and 80th minute, coincidentally when United couldn't get a shot on target.
Sunderland are now 10 points from safety and host 14th placed West Ham next Saturday. United travel to Belgium to face Anderlecht in the Europa League on Thursday before a big game at home against league leaders Chelsea on the 16th.