The city of Chicago and Wrigley Field waited 108 years for a memorable home-opener. Monday night, they got what they have been waiting for and more.
The old saying is good things come to those who wait. At this point, that is the definition of the Chicago cubs organization and fan base.
Rain, Rain, Go Away?
Early Monday, the Chicago sun was shining, the wind was filled with excitement, and the temperature was as warm as the hearts of the Cubs' fans. However, that would later on change.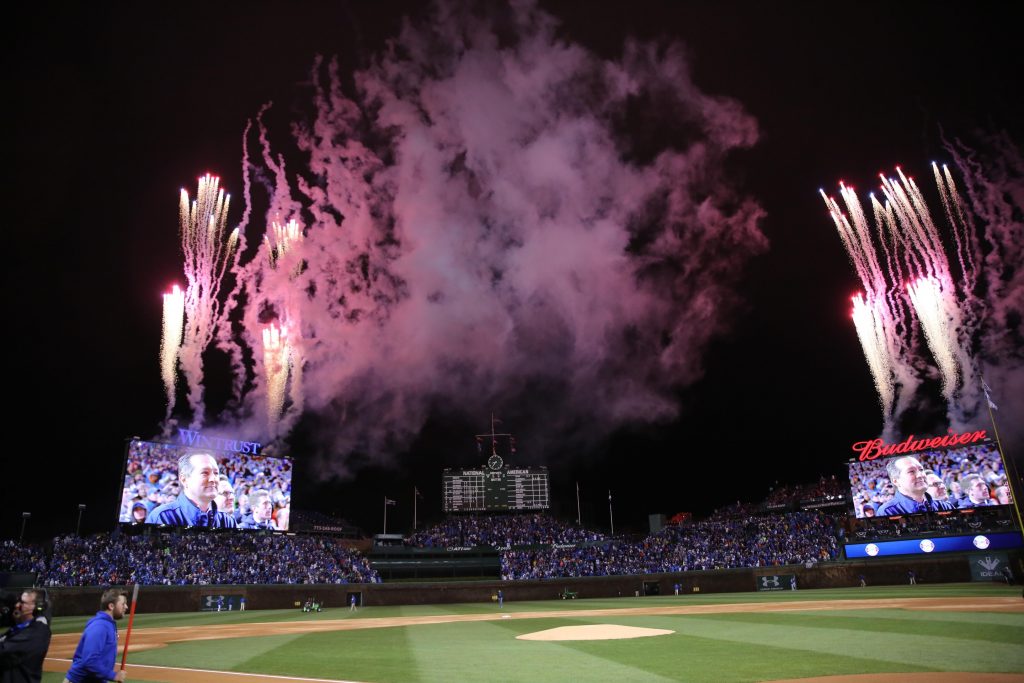 About two hours before the first pitch, mother nature would throw a curve ball to the city as a whole. The rain started to come down. yet the city turned blue–Chicago Cubs Blue. Fans used their blue caps and umbrellas to protect them from mother nature's curve ball.
Yet, the atmosphere and energy did not change throughout the city and Wrigley Field. People waited out the rain delay, because good things come to those who wait.
The rain tampered off and the ceremonies resumed. The Chicago Cubs raised their first championship banner since the year 1908. It was no surprise that fans stayed around through the 90-minute rain delay because what's 90 minutes to 108 years?
Let's Get This Season Started
It was a special night for the Cubs and Anthony Rizzo played a huge factor in that. The first baseman held the team's World Series trophy, but he was off to a slow start of the Cubs.
He went 0-for-3 with a walk through eight innings of Monday's memorable night. But, that all changed when he swung on the Dodger's Kenley Jansen's fast pitch.
Rizzo drilled one to left field and which lead to Cubs' newcomer, Jon Jay, making a run to home plate. That one moment secured the 3-2 win over Los Angeles and the second memorable moment of the night for the City of Chicago. It was a night filled with a lot of emotions.
Today, the team has a chance to recuperate before Wednesday's game two against Los Angeles. That game will also be memorable as the team will receive their championship rings prior to the first pitch.
Chicago is on a roll as they are currently on a three-game win streak.