Playoff Matchup
The Cleveland Cavaliers will continue to host the Indiana Pacers tonight at 7 in the first round of the playoffs for Game 2. Cleveland took the first game of the series in a close 109-108 win.
Game One
With the first round of the playoffs underway, Game One of the Eastern Conference proved to be a tough one with the final score 109-108. The Pacers kept it pretty close throughout the game, but were never able to hold a lead to end a quarter. In an interview with Pacers head coach Nate McMillan, he explained how the Pacers didn't take advantage of the opportunities the Cavaliers were giving them at the end of the fourth quarter.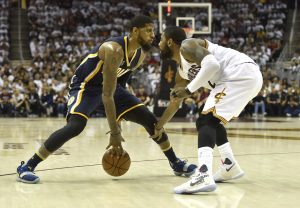 Even with the win, Kyle Irving stated in an interview that the Cavaliers defense still needs to improve to make it through the playoffs. With 8:49 left in the game, Cleveland had gotten themselves a 10 point lead at 98-88. However, they then let Indiana come back to take the lead 105-103 with 3:31 left in the game. Cleveland found a way to win this one, but the defense will need to improve for them to be able to finish strong.
Standout Players
LeBron James racked up 32 points for the Cavaliers, the most by any player on the court in Wednesday's win over the Pacers. In an interview he discussed how Game One for him was a chance to see how he should adjust for the rest of the series.
Another key player for the Cavaliers is center Tristan Thompson. Thompson grabbed 13 rebounds in Game One, 7 of which were defensive rebounds.
For the Pacers, Paul George made 6-8 3 pointers and had a combined total of 29 points in the first meeting. George made a 28-foot three pointer with :40 left in the game to make the game 108-109, but the Pacers couldn't manage to convert anything afterwards.
https://twitter.com/kiaenzona/status/853360586184429568
Gametime
Tipoff is set for tonight at 7 p.m. You can catch live coverage of the game on ESPN 98.1 FM/850 AM or watch on TNT.