Mike Evans will be staying with the Tampa Bay Buccaneers until 2018.  The fifth-year option on Evan's contract will cost the Bucs about $14.7 million.
Buccaneers pick up @MikeEvans13_'s fifth-year option: https://t.co/FQbJZ14LGk pic.twitter.com/haVYHoVpNM

— NFL (@NFL) April 17, 2017
General Manager Jason Licht made the announcement yesterday during the team's press conference.
The Bucs want to keep Evan's on the team for the rest of his career.  A finalization of a career-long contract will take place before Evan's new contract is up in 2018.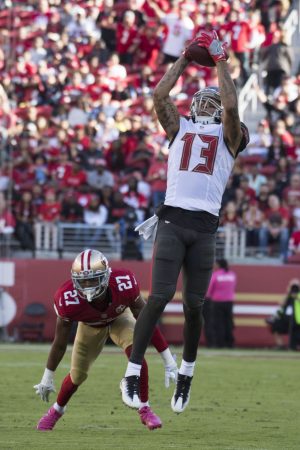 2016 Season:
12 Touchdowns
1,321 Yards
96 Receptions
Evans improved his playing during the 2016 season.
Evans and Jameis Winston worked well together during the past season.  Fifteen of Evans' 27 touchdowns came from passes by Winston.
Each season, the two are getting better at finding each other and making plays.
Last season, Evans was ranked fourth in the NFL for most receiving yards.  He went to the Pro-Bowl for the first time in his NFL career.
2017 Season:
Having Mike Evans on the team again will help the Bucs continue to improve.  They had a strong run for the playoffs last season, and with Winston and Evans finding each other more, the Bucs' offense will be strong.
Off-season workouts have started for the Bucs.  Tampa will pick 19th in the NFL Draft on April 27.