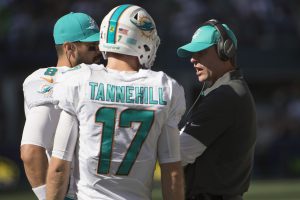 Ryan Tannehill will still lead the Dolphins going into 2018 season
There has been speculation this off-season that the Miami Dolphins were going to part ways with Ryan Tannehill. On Wednesday head coach Adam Gase put an end to those rumors, saying that Tannehill is their man for 2018.
The former Texas A&M quarterback sat down all of the 2017 season due to an ACL tear that he suffered late in the 2016 campaign.
Addressing the media, Gase said, "Ryan is going to be our starting quarterback, and I don't see that changing anytime soon".
Tannehill recorded his best season in 2016 going 8-5 with 67 percent completion and a 93.5 quarterback rating. He also threw close to 3,000 yards and 19 touchdowns.
According to coach Gase, Tannehill rehab has been going swimmingly and will be ready to participate in offseason workouts.
Drafting a Quarterback
Although Gase endorsed Tannehill with the starting role, he didn't rule out the possibility of taking a quarterback with the 11th pick in this year's draft.
Gase said he'd like to draft a quarterback every year.
"Ryan would never shy away from anybody coming in at that position," Gase said.
With mock drafts coming out, specialists are predicting for the Dolphins to take Oklahoma quarterback Baker Mayfield in the first round. The recent Heisman winner threw for 4,627 yards with 43 touchdowns his senior year. Mayfield's quickness and versatility would be a great fit into Miami's system.
Drafting other Positions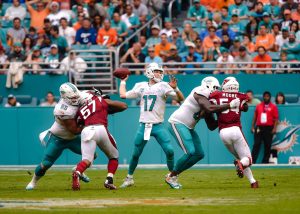 Quarterbacks aren't the only thing in the coaching staffs sights.
The Dolphins are also reportedly looking to add key players on both sides of the ball. Other draft specialists see Miami picking up safety Derwin James in the first round.
Also with Jarvis Landry's future with the team with team uncertain, Miami is looking for a receiver in the second or third round.
With the combine this week, Gase will be on the lookout to see who can be a perfect fit for his system. But for right now his offense is going to be run by Ryan Tannehill.