Seventeen years after his last season in Oakland, Jon Gruden is ready to put on the headset again.
As the NFL Combine kicks off this weekend in Indianapolis, Gruden is taking in all the sights and sounds. As interviews pile up, his excitement and optimism for the upcoming season only grows. The Raiders' new head coach is looking to right the ship after a 2017 season in which Oakland lost its final four games to finish 6-10.
Gruden spent the better part of the last nine years as an analyst for ESPN. His show Jon Gruden's QB Camp arguably best utilized his knowledge and skills with tape analysis, as he sat down with quarterback prospects to coach them based on video highlights.
But Gruden felt the pull to once again join the competition, and when Raiders owner Mark Davis came calling, Gruden answered. 
Return to Winning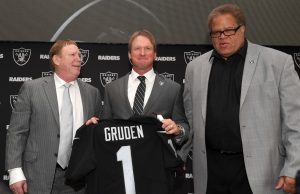 Now Gruden looks to build a roster back to its winning ways, of which Oakland is not far removed. Under his regime in the early 2000s, the Raiders made back-to-back postseason appearances before trading him to Tampa Bay in 2002. Gruden's Buccaneers went on to beat Oakland in the Super Bowl that same year. The Raiders didn't sniff the playoffs until a 12-4 record in 2016 pushed them into the AFC Wild Card round.
Less than two months after signing a 10-year, $100 million contract, Gruden is back in full swing. Before the Combine, he noted stiffening up his secondary, filling the linebacker corps, and trusting an offense that saw a heavy drop-off in production last year.
But contrary to the majority of modern coaching staffs, he won't be relying on analytics to solve his roster's deficiencies.
"I'm not going to rely on GPS and all the modern technology," he said. "I will certainly have some people that are professional that help me from that regard. But I still think doing things the old-fashioned way is a good way."
Offensive Improvements
As for the Oakland offense, there is certainly an opportunity for improvement.
Quarterback Derek Carr never fully settled in last season. He saw major drop-offs in total yards and touchdowns and more than doubled his interception total. These stats played a large part in lowering his quarterback rating by over ten points from the previous season. Gruden attributes these struggles to time missed by wide receivers Amari Cooper and Michael Crabtree. He added that a solid new system will benefit the fifth-year starter immensely.
"He's going to be a great leader for us," said Gruden.
"It's gonna be fun … for [Gruden] to push me to be excellent in everything that I do. It's gonna be really fun."

No. 4 on working with Coach Gruden and playing in the #ProBowl: https://t.co/aHSVcSfAG8 pic.twitter.com/0aEgHLUTFM

— OAKLAND RAIDERS (@RAIDERS) January 23, 2018
Add in a character and bruiser like running back Marshawn Lynch, and Gruden is ready to see what his offense can do. Lynch enters his eleventh season after his return to football last year, a season that saw respectable totals in rushing yards (891) and touchdowns (7).
Gruden's excitement is ten years in the making, and aside from a one-game playoff appearance, Oakland's is an even longer time coming. Combine this readiness with a window of opportunity and the return of a beloved head coach, and Raider fans are ready to get things going again. Football season is just six months away in the Bay.