For the first time in eight years, NBA fans are waking up to the extremely rare news of a 30-30 game.
Dwight Howard's 32 points and 30 rebounds powered the Charlotte Hornets Wednesday night as they stormed back to beat the Brooklyn Nets 111-105 at Barclays Center.
Exclusive Company
Howard's incredible feat is more than just slightly uncommon – only eight players in history have accomplished this stat sheet stuffer. Howard is just the second player to do so since Moses Malone in 1982.  
The other was in Cleveland last night, hitting a game-sealing three-pointer in a battle of two of the NBA's best teams. But after Kevin Love's Cavaliers took down the Toronto Raptors, the power forward took to Twitter with his eyes on a different clutch performance.
Congrats to @DwightHoward the new Mr. 30/30. Hell of a night!!!

— Kevin Love (@kevinlove) March 22, 2018
Fourth Quarter Rally
Howard's dominance Wednesday night pushed him from fifth to third in the league in rebounds per game, and the Hornets needed every last one.
Charlotte saw their deficit grow to as many as 23 points in the second half, and they still trailed by double-digits with just five minutes to go.
Then the Hornets locked in. 
A 22-5 closing run anchored by Howard's post presence and some timely defense allowed Charlotte to escape Brooklyn with a comeback win.  It was just their third victory in the last ten games, and the Hornets are making a point to enjoy it.
"Never been part of something like that," said All-Star guard Kemba Walker. "It was incredible."
Aging Well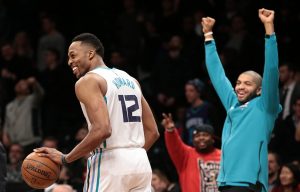 Howard's 30-30 game comes with an added dose of impressiveness. The center is 32 years old, a decade older than Love was when he notched 31 points and 31 rebounds against the New York Knicks in 2010. Statistics like this haven't been posted by a player above the age of 30 since Kareem Abdul-Jabbar did so in 1978.
"That's great to be named with someone like Kareem," Howard said. "It's one of the guys I looked up to growing up, him and Wilt Chamberlain."
Chamberlain's eye-popping 124 30-30 games continued well past age 32, but Howard will savor this one. After years of criticism and a struggle to find his way back to prominence, his performance made more than just a statement.
Howard used an exclamation point.