After being shut down last week with bicep soreness according to multiple reports, the Oakland A's top prospect, A.J. Puk might need surgery. According to multiple reports, he was recommended by Dr. James Andrews to undergo Tommy John surgery.
Puk reportedly had bicep soreness last week and concerns quickly arose that he may have ligament issues in his throwing elbow.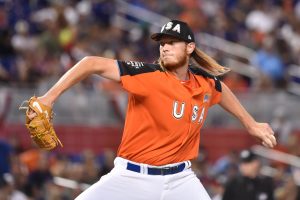 Puk's young career
The 22 year old was drafted by the Detroit Tigers in the 35th round of the 2013 Major League Baseball draft but decided to attend the University of Florida for his college career instead.
In his freshman season, he appeared over 20 times on the mound including seven starts. He pitched 5-2 with a 3.19 ERA and totaled 46 strikeouts over 42.1 innings. Puk limited his opponents to a .210 batting average and had one save on his freshman season.
In his sophomore season, he started 14 games and appeared on the mound 17 times. He went 9-4 with a 3.81 ERA. Puk lead the team in strikeouts with 104 over 78 innings.
During his 2016 season with the Gators he appeared in 17 games with 16 starts. He pitched a 2-3 record and had a career low ERA of 3.05. He gave up 31 runs (25 earned) on 51 hits and had 101 strikeout over his 73.2 innings pitched. Puk held his opponents to a .191 batting average recording the second lowest among Florida starters. He had an impressive four games with 10+ strikeouts in his final season with the Gators.
The Oakland Athletics selected Puk with the 6th overall pick in the first round of the MLB draft. In 2016 he worked his way up to the Double-A roster.
He finished his 2016 season with an 0-4 record and a 3.03 ERA. In his 2017 season with the Midland RockHounds and the Stockton Ports he had an ERA of 4.03. He finished with a 6-10 record striking out 184 batters across 124 innings pitched.
Puk's Return
Although his MLB debut was suspected to be this year, according to reports, Puk is suspected to make his return to the mound after surgery in the second half of the 2019 season.