After five years of winning under the direction of Alex Smith, the Kansas City Chiefs are looking to a new quarterback.
Enter second-year prospect Patrick Mahomes. An electrifying athlete, Mahomes is poised to join a Chiefs offense that features other versatile weapons in skills positions, a key trait of an Andy Reid attack. Mahomes comes from a background of fast-paced and high-scoring offenses at Texas Tech, from which the Chiefs drafted him 10th overall in 2017.
Smith Departs
Kansas City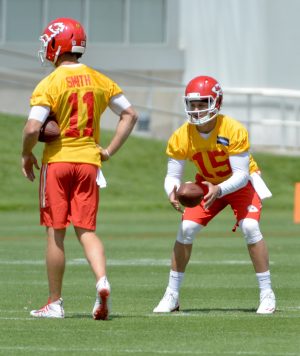 was able to save a good deal of money by trading Smith to Washington in the offseason, but with it, they lose stability. In Smith's five years with the Chiefs, they missed the postseason only once. Though Smith was never able to guide the Kansas City as far as an AFC Championship Game appearance, his production spoke for itself. Career highs in passing yards and touchdowns last season accompanied a league-best 104.7 Quarterback Rating in what was arguably the best campaign of Smith's 12-year career.
As Reid explained, sometimes the business side of things takes over.
"We weren't in the greatest cap situation, so you have to make moves like that," he said.
Excitement Surrounds Potential
The excitement surrounding Mahomes in Kansas City isn't unwarranted. Serious talent stems from the lethal combination of Mahomes' accuracy and arm strength, and in his lone start against Denver in week 17, Mahomes was able to give a taste of both. He connected on 22 of his 35 passing attempts for 284 yards and just one interception – a promising debut.
Being the understudy to Alex Smith last season certainly didn't hurt. Mahomes was able to get a feeling for the type of offense Reid employs, which relies heavily on playmakers like Kareem Hunt and Tyreek Hill. The offseason addition of wide receiver Sammy Watkins will give Mahomes another proven weapon and set of hands. Reid is confident that an offense equipped with such talent will prepare Mahomes to succeed early and often.
"This kid is ready to go. He's ready to go ahead and lead," Reid said.
"He's ready to go ahead and lead" ~ Andy Reid on Patrick Mahomes

➡️ https://t.co/CYrnB513iB pic.twitter.com/v72pPTuXs4

— Kansas City Chiefs (@Chiefs) March 28, 2018
Mahomes has huge shoes to fill in the wake of Smith's departure, but Reid is right. Mahomes is in a perfect opportunity to showcase his ability. As the leader of an offense that seems built for his skill set, Mahomes will have every opportunity to shine. A year of study, a talented corps of teammates and a successful system under a proven head coach isn't a bad starting hand.
As Mahomes carries excitement and Chiefs fans carry hope, Reid knows all that is left to do is perform.
"Now, he's got to do it. It's all out there in front of him."