It was a battle of the Cats on Wednesday as the Forest Wildcats visited the Buchholz Bobcats. Forest came in with 14 wins and just three losses while Buchholz had a solid 13-5 record.
Pitching, pitching and more pitching
The majority of the game was dominated by pitching and defense. Buchholz pitcher Luke Baker was especially good. After struggling early in the game with three walks in the first two innings, the sophomore settled down and was lights out the rest of the way, pitching a no-hitter up until the sixth inning.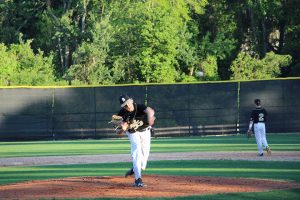 Loss of no-hitter was costly
Unfortunately, when Baker lost his no-hitter bid, that was also when Forest scored. Freshman Harrison Pesola had an RBI single which gave the Wildcats the 1-0 lead. However, Buchholz didn't panic and it responded right away in the seventh inning. After a throwing error by Forest pitcher Anthony Ragosta brought Victor Nelson to third and Parker Green to second, Josh Fowler hit a sacrifice fly to left field which brought Nelson home, tying the game at one. Later, Corbin Grantham put the nail in the coffin with a walk-off hit up the middle, bringing in Brian Yedy and securing the 2-1 victory for the Bobcats.
What the winning coach had to say
After the game, Buchholz head coach Ron Brooks gave his thoughts on his team's performance.
Key quote: "What he did really well tonight is compete in the zone with his fastball. In high school baseball, you throw strikes, most of the time you're going to be successful," Brooks on Baker's pitching performance.