Rays Defeat Rangers in Finale
Timely hitting paced Jake Faria's impressive six innings as the Tampa Bay Rays defeated the Texas Rangers 4-2 Wednesday afternoon in St. Petersburg.
Rangers starter Cole Hamels carried a shutout into the sixth inning, but the Rays were able to string together several hits and rode quality base running to a three-run frame that put them ahead for good. Daniel Robertson's RBI double brought the game even and set up C.J. Cron's bloop single to break the tie.
Hits from Field, D-Rob and Cron help rally for three in the sixth.

Out in front 3-1.#RaysUp pic.twitter.com/Nof01iw9fW

— Tampa Bay Rays (@RaysBaseball) April 18, 2018
Adeiny Hechavarria added a sac fly before the inning's close. In the seventh, a Denard Span RBI double gave Tampa Bay a needed insurance run and set up the bullpen to close out a tight series finale at Tropicana Field.
Archer Carries Rays Into Weekend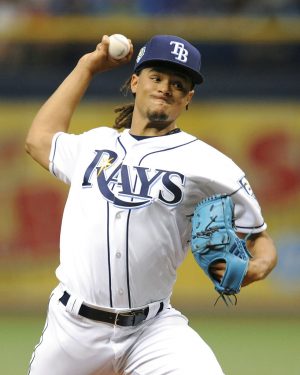 Tampa Bay's next test is a weekend series against the AL Central-leading Minnesota Twins in St. Petersburg. Minnesota is coming off a two-game split against Cleveland in Puerto Rico, a series announced last year by Major League Baseball.
The Twins' victory came with a price. It took a 16-inning marathon ending with Ryan LaMarre's RBI single to finally down the Tribe. With the win, Minnesota overtook Cleveland by a half-game for the division lead.
The Rays have had an all-but-easy beginning to the regular season, hovering at the bottom of the AL East with a putrid 5-13 record. Tampa Bay would surely like to finish April strong and hope ace Chris Archer's series-opening start against the Twins will set the rhythm they need.
"Good pitchers get to being good through different avenues," said manager Kevin Cash.
Cash was referring to Archer's continued search for consistency after starting the season with a 7.84 ERA. But despite the struggles in April, Archer sees this weekend as a perfect place to set a new tone.
"I'm feeling good going into Friday," he said.
Marlins Look to Build
Meanwhile, the Rays' neighbors to the south haven't fared much better at the season's start. The Miami Marlins are dead last in the NL East, following a 2-6 stretch riddled with offensive inconsistency.
Miami opens a four-game series Thursday in Milwaukee. The new-look Brewers are 10-9 to start the season, kept afloat by a solid bullpen and the power of Eric Thames. Thames' seven homers rank second in the MLB and have become more frequent. His torrid start to April is reminiscent of a year ago when he hit .345 with 11 home runs to lead Milwaukee to the top of the NL Central.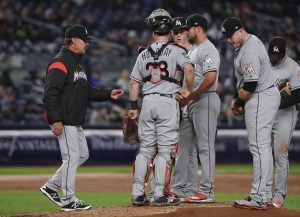 The Marlins, on the other hand, have had an April to forget. The first month of regular season play under new ownership hasn't been kind to Miami, who has limped to just five wins thus far. Starting pitching woes haven't helped with an inconsistent offensive output – and Miami has learned the hard way that you can't win without pitching.
Miami will have an opportunity all weekend to get their bats in a groove, as Milwaukee's starters have been just as on-and-off. And despite the annual April optimism, manager Don Mattingly knows the reality of his team's weaknesses.
"Obviously, we've had trouble scoring runs," he said.
It's a challenge for young teams to find a rhythm early, and consistency can often take below-average teams weeks to achieve. For both the Marlins and Rays, now is the time to try to find that consistency.