The last two seasons for the Cleveland Browns have not been pretty.  In 2016, the team only won 1 game and in 2017, they never won a game.
Now, in the 2018 draft, the Browns have the first overall pick and the fourth overall pick via the Texans. Cleveland has a total of 9 draft picks this year.  They're going to use this year to change the program.
What the Browns Need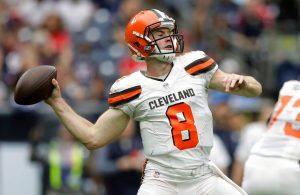 The Browns are in desperate need of a quarterback that can bring them out of their losing drought.  Since the team started in 1999, the Browns had 28 starting quarterbacks.  The team is in desperate need of someone who will click with everyone and stay with the team.
The coaches know what they want and they are hoping to find that in this year's draft.
What the Browns Have
The Browns acquired Tyrod Taylor in March to fill the QB void before the draft.  Some are saying Taylor will be the starter for the Browns, but nothing is definite, especially with the draft next week.
https://twitter.com/Browns/status/986348846816071682
Taylor is preparing for the draft and preparing to compete with at least one quarterback for the starting position.
Potential Picks For the Browns
Here's a look at some predictions about who the Browns will take:
USC QB Sam Darnold is the likely pick for the 1st overall pick.  Some of his strengths include he takes what defense is offering and won't overcomplicate it, he scans the full field and his eyes don't get bogged down on a single target.
Wyoming QB Josh Allen is another possible pick.  He has a sturdy base which allows him to shake off sacks and extend plays.  He has rare arm strength and overall arm talent, as well as a variety of release points if needed.
Hopefully, with the two first-round picks the Cleveland Browns can finally have a change in the program.