Two more tickets to the second round of the 2018 NHL Playoffs could be punched tonight. The Washington Capitals erased a 2-0 series deficient against the Columbus Blue Jackets and now have the series lead. The Caps will try and close the series in Columbus tonight at 7:30 p.m.
The Boston Bruins lost game five to the Toronto Maple Leafs 4-3 but get another chance in a closeout game in Toronto at 7 p.m. tonight.
Washington Wins Three Straight
After losing the first two games in the series in OT, Washington has won three straight, including two in OT. Four of the five games in this series have gone into overtime, with one game going into double OT. Nicklas Backstrom had the game five winning goal to give Washington a series lead.
Despite the score, the Blue Jackets outplayed the Capitals for most of the game according to Backstrom.
The Caps have a chance to advance on the road, where they already have two wins this series. It's a somewhat shocking turn of events after Washington blew a 2-0 lead in each of the first two games at home.
The Blue Jackets know that outperforming the opponent is meaningless without a win to show for it.
"Deserving and fate and all that stuff … it's about finding a way to win a hockey game right now," said Blue Jackets head coach John Tortorella. "So, if we get outshot 50-20 Monday night, but we end up on the right side, we'll take it."
"We have a chance in front of our home crowd to force a Game Seven." – @mattcalvert11#CBJ | #MarchOn pic.twitter.com/fn2l4ezozf

— x – columbus blue jackets (@BlueJacketsNHL) April 22, 2018
A Capitals win will set up a matchup with the Pittsburgh Penguins next round.
Bruins Fell Short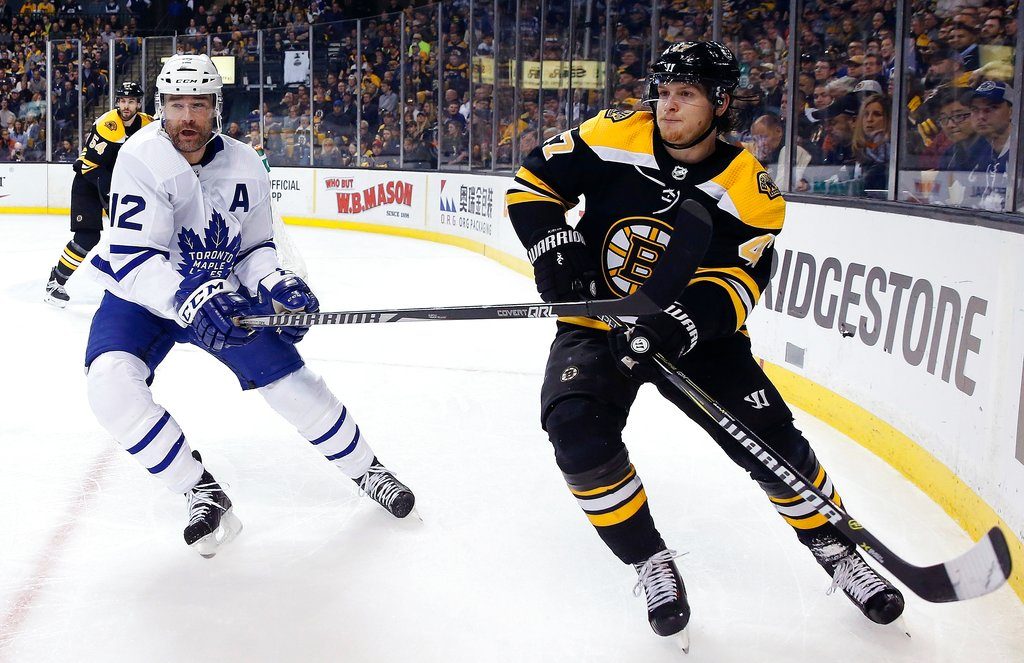 A Bruins comeback fell short in game five to keep Toronto alive.
Boston brought a 4-1 deficient down to 4-3, however it wasn't enough as they lost at home. Last time these franchises met in the playoffs, the Maple Leafs forced a game seven after being down 3-1. They hope to repeat history tonight.
Toronto head coach Mike Babcock thought his team was engaged in game five more then they had been.
Frederik Andersen had 42 saves and goals by Connor Brown and Andreas Johnsson in the first period set the tone for the game.
The Maple leads now look for their second home win of the series to force a game seven.