The Jacksonville Jaguars are opening their season in New York to face the Giants. In the pre-season the Jags went 3-1 and the Giants went 2-2.  The Giants have a 51% chance to win according to ESPN's Power Index.
Players to Watch
Eli Manning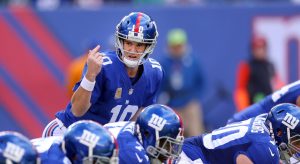 New York Giants QB, Eli Manning last season had a 61% completion rate for 3,468 yards and 19 TD's. This week Manning says that he believes his teams offense will perform well on Sunday.
Saquon Barkley
The No. 2 overall 2018 draft pick and Giants RB, Saquon Barkley, will be making his regular season NFL debut Sunday. The RB only played in only one game during the preseason due to a hamstring injury. On Wednesday, Barkley was no longer on the Giants injury report and ESPN's Jordan Raanan, reported that Barkley has shown improvement in practice this week.
Odell Beckham Jr.
Giants WR, Odell Beckham Jr. is one of the bigger names in the league and in the pre-season Beckham didn't see the field. Going into the first game, OJB is says he's ready to lace up his cleats, but also is aware that Jacksonville has a top notch defense that could make things interesting.
Jalen Ramsey
One of the players OJB mentioned being a tough one to face is Jacksonville CB, Jalen Ramsey. When Jalen Ramsey talked to the media he wanted to point out that it's not just about him and OJB's match up.
Former Gator Taven Bryan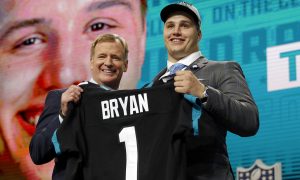 Taven Bryan was drafted by the Jags in the first round and has been making a good impression. Mike Dirocco covers the Jags for ESPN and while on Sports Scene mentioned that "…Calais Campbell, you know has been in the league ten years. He said that Taven is the best rookie he's ever seen. In terms of being attentive in the meeting room, wanting to learn, being receptive to criticism and just seeking out advice and help and everything from that stand point…"
Last Years Stats
Jacksonville had 3,716 passing yards, averaged 7.1 a pass and had 21 passing TD's. The Jags rushed for 2,262 yards averaged 4.3 a carry and 18 TD's. With Leonard Fournette leading the way with 1040 yards from 268 caries and 9 TD's.
The New York Giants, passed for 3,680 yard, averaging 6.1 a pass and 20 TD's.  In the rushing game, the team put up 1,549 yards averaging 3.9 a carry and 6 rushing TD's. Orleans Darkwa, lead the way with 751 rushing yards from 171 attempts and 5 TD's.
Game Time
The New York Giants will host the Jacksonville Jaguars on 9/9/18 at 1p.m. on Fox.
https://twitter.com/Jaguars/status/1038111368375922688