It's a showdown at Citizen's Field as the Gainesville Hurricanes face the Buchholz Bobcats for their annual city championship game. This out of conference rivalry game will be the 47th meeting of these two Gainesville teams.
Bobcats are on the Hunt
Buchholz was on a bye last week, so they have had some time to recharge from their blowout win against Belleview on Sept. 21 (57-0).
The Bobcats have Trent Whittemore, a University of Florida committed wide receiver and defensive back to help their efforts on both sides of the ball against the Hurricanes.
Quarterback Camden Orth has also been a key part of Buchholz's offense, going 4-6 for 91 yards and two touchdowns in their last game. Head coach Mark Whittemore touches on Orth's comeback from a season-ending injury last year and his progress throughout the season:
Although the Bobcats lead the series overall, the Hurricanes have won for the past two years, along with seven of the past nine meetings. Whittemore knows that his men will face a talented set of players. He comments on what he saw out of Gainesville film leading up to this week's game:
Hurricanes Plan to Extend Two-Year Win Streak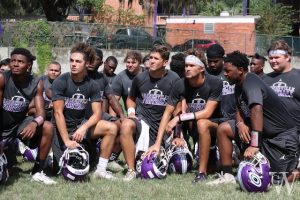 With a four game winning streak this season, Gainesville has not dropped a game since Aug.24 against Columbia.
The Canes are coming to Citizen's Field with a stacked set of players, including future Florida preferred walk-on Luke Matthews, who went 21-32 for 345 yards and one touchdown in their last game against Forest.
Although they have been struggling the past few weeks with excessive penalties, head coach Patrick Miller feels that his men have improved throughout the season.
Even though this an out of conference game, the two high schools are less than five miles away from each other, creating a local rivalry that lights up the city of Gainesville every year.
Game Time
Watch the Gainesville Hurricanes take on the Buchholz Bobcats in this city rivalry game on Oct. 5 at 7:30 pm. The game is happening at Citizen's Field.