Another edition of Friday night lights returns with the Trinity Catholic Celtics facing the Santa Fe Raiders on Oct. 12. Both teams have lost three games this season, with the Celtics losing three straight and the Raiders not winning two consecutive games yet.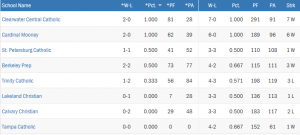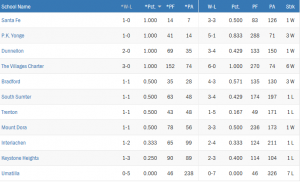 District Roundup
Although this is a non-conference matchup, here's a look at how both teams sit in their district. Trinity Catholic is 1-2 after a win versus the Mount Dora Hurricanes and losses to the Dunnellon Tigers and the First Academy Royals. The Celtics enter this week one game back of Berkeley Prep, who are riding a three-game win streak. On the other hand, Santa Fe is one of four undefeated teams in its region. Although Santa Fe (1-0) and Dunnellon (2-0) are unbeaten, both teams have overall records at .500 or under. P.K. Yonge (1-0) and The Villages Charter (3-1) have a combined overall record of 11-1 this season. The one loss comes from a 51-19 loss by the Blue Wave against Hawthorne.
Trinity Catholic Celtics
Trinity Catholic has lost its last three games by a combined score of 90-35. However, the Ocala team has 198 points for and 119 points against this season. The Celtics are only above St. Petersburg Catholic in the Florida High School Athletics Association (FHSAA) 2018 Class 3A Region 3 power rankings. Senior running back and strong safety Corey King is leading the way with 799 total yards in six games. Additionally, senior quarterback and outside linebacker King Redd has 706 total yards, six touchdowns and 10 interceptions in six games.
Santa Fe Raiders
The Santa Fe Raiders are coming off a 12-7 win against Union County in Week 6. The away win takes the Raiders to 2-1 in road games this season. Friday night lights at home haven't been as successful, with Santa Fe losing by a combined score of 64-20 versus Fort White and Florida State University School. Santa Fe sits behind Bradford and Dunnellon in the FHSAA 2018 Class 4A Region 2 power rankings.
Head Coach Doc Pollard is happy that his team is competing in games now when compared to last season.
Pollard acknowledged the Celtics recent struggles but believes the game can be close.
Kickoff for the game is set for 7 p.m.