With only a little over a month to go in the regular season, major league baseball is heating up. The Tampa Bay Rays are right in the middle.
Standings
Holding strong at 74-54, the Rays are currently second in the AL East, behind the New York Yankees. With the Wild Card round approaching fast, the Rays will have to hold strong for the remainder of the season.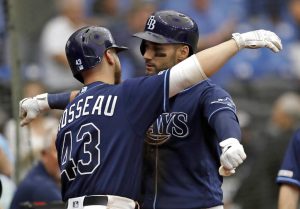 Currently, the Rays are tied for second, with the Oakland A's, in the AL Wild Card teams. Both have 20 more wins than losses, but the A's have played one less game. This gives them the higher winning percentage by .001.
Last Game
The Rays have somewhat struggled over their last six games, accumulating a 3-3 record over the stretch. All three of those wins came in walk-off fashion. The Rays last game against the Seattle Mariners was no different. Tampa Bay held off the sweep by defeating the Mariners 7-6 on Wednesday.
KK and the wild pitch!#RaysUp pic.twitter.com/cCY13bONi3

— Tampa Bay Rays (@RaysBaseball) August 21, 2019
Kevin Kiermaier brought in four runs for the Rays during the game. This included the game tying solo home run in the ninth inning. After Kiermaier's home run, the Rays loaded the bases due to a Willy Adames' single, a double by Mike Brosseau, and an intentional walk to pinch-hitter Ji-Man Choi with no outs.
With the bases loaded, Mariner's pitcher Matt Magill threw a wild pitch to Tommy Pham. This allowed Adames to score from third and cost the Mariners their sweep.
Up Next
The Rays will be back on the road again tonight to face Baltimore Orioles. The Orioles are currently last in the AL East. This series could be a turning point for the Tampa Bay in the Wild Card race. By winning the series or sweeping the Orioles, Tampa Bay could get some breathing room from the A's in the running for the Wild Card.
Left-hander Ryan Yarbrough (11-3, 3.34 ERA) will start for Tampa Bay against right Asher Wojciechowski (2-6, 4.78).
The first pitch is scheduled for 7:05 p.m. ET.