The Orlando Magic snap a three-game losing skid while scoring a season-high 135 points. The Magic defeated the Atlanta Hawks 135-126 Monday night.
https://twitter.com/OrlandoMagic/status/1227054519684517888?s=20
The Magic (23-31)
Orlando currently holds the eighth and final playoff spot in the Eastern Conference and improved their record to 23-31.
The Magic have lost eight of nine overall and five-straight home games. That's why they were stunned when they had a 79-point second half, which included a season-high 42 points in the fourth quarter. This ultimately led to a season-high 135 points and a victory.
Aaron Gordon led the Magic to a victory during Monday's match-up. Gordon had 26 points, nine rebounds and four assists. Orlando's Nikola Vucevic added 24 points, nine rebounds and nine assists.
Their combined effort helped lift the Magic up to surge past the Atlanta Hawks in a close game.
Orlando Magic center Nikola Vucevic, left, and Atlanta Hawks center Damian Jones, right, fight for a rebound during the first half of an NBA basketball game in Orlando, Fla., Monday, Feb. 10, 2020. (AP Photo/Willie J. Allen Jr.)
The Magic's next game is February 12th at home. Tip-off is set for 7 p.m. against the Detroit Pistons.
Atlanta Hawks (15-40)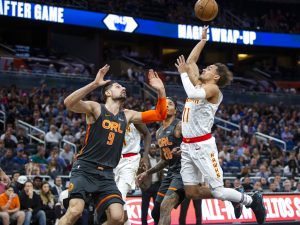 Atlanta continues to struggle this season as they fell 135-126 to the Magic last night. They currently sit at 14th in the Eastern Conference.
In the Hawk's close effort, point guard Trae Young had 29 points, one rebound and nine assists. John Collins also had a great night for the Hawks as he scored 22 points. Hawks big-man Dewayne Dedmon led the boards with nine as well as 14 points and one assist.
Atlanta hits the road again for a February 12th game. They are set to take on the Cleveland Cavaliers and tipoff is set for 7 pm.