The Santa Fe Saints' season has come to a close after an FCSAA/Region 8 State Tournament loss to Florida Southwestern State College, 67-59.
Best Saints Team in Years
Despite a disappointing end to a season the team had hoped would result in a state championship, it hasn't been a year to scoff at for Santa Fe. The Saints finished the campaign with a 24-6 record, going 12-3 in conference play and a perfect 15-0 at home. Coming off of three straight losing seasons, the feats of this year are all the more impressive for Head Coach Chris Mowry's squad. The season was outlined by a Central Conference Championship and State Tournament appearance.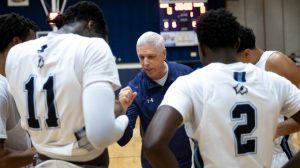 This was their first appearance in the State Tournament in nine years. Albeit ending in a loss, it's difficult to imagine Coach Mowry feeling anything but proud of the way his guys competed against Florida SouthWestern. Coming in as the five-seed, the Saints went back and forth with the four-seed Buccaneers all game. They took things right down to the wire, as they stood only down four with 27 seconds on the clock.
The Saints bow out of the @TheFCSAA / @RegionVIIIHoops State Tournament to the No. 4 seed FSW, 67-59.

More still to come on the game from Niceville. pic.twitter.com/QKSEhb5PGB

— Santa Fe Saints Men's Basketball (@SFsaintsMBB) March 3, 2022
Mowry On His Saints
Mowry, on the day following the loss, spoke to his group's fight all season and their success. He praised what they were able to accomplish and commended the attitudes throughout the team.
"I'm really proud of the guys for this season. We fought really hard all year long, and I can't think of a game where we were outfought by our opponent …It was one of the best seasons we have had at Santa Fe. Winning a Central Conference title and winning a lot of games on the road down the stretch says a ton about the type of kids we have."
While everyone involved undoubtedly needed to do their part in order for a season like this to come to fruition, there are always standouts. Sports and stars are inherently intertwined.
Saints Standouts
Guard Bradley Douglas and Forward Hasan Abdul-Hakim were keys to Santa Fe's success this season.
Douglas led the Saints in scoring and assists, averaging 15.3 points per game with 5.2 assists. His 15.3 points were No. 11 in the FCSAA, while his 5.2 assists landed at No. 5.
Abdul-Hakim contributed 13.1 points, 5.7 rebounds and 2.8 assists per game – additionally, he lead the team in blocks.
Prior to Wednesday's matchup with FSW, they were both honored as FCSAA All-State/NJCAA All-Region 8 performers. They're the first Santa Fe Saints' to earn this award since Morris Marshall in 2015.
Douglas, Abdul-Hakim of @SFsaintsMBB Chosen to @TheFCSAA All-State / @RegionVIIIHoops Team. #SicEmSaints

Full Story: https://t.co/2O0zfcW4UY pic.twitter.com/KD2E16dRJH

— Santa Fe Saints (@santafesaints) March 3, 2022
They went on, in perfect story-line fashion, to both have great outings in the tournament loss. Douglas was spectacular, giving the Bucs all they could handle in the form of 20 points, seven rebounds, six assists and three steals. Abdul-Hakim, likewise, did all he could to try and advance rounds; he did his work to the tune of 16 points, dominating on the interior. At the end of the day, though, it simply wasn't enough.
Looking Ahead
FSW will play the top-seeded Indian River State College on Friday at 4 p.m. They'll look to build off of the momentum gained from knocking out the Saints.
Santa Fe's season will end here, going down as one of the best in program history. While it was one of the best, it was not perfect. The truth is that nobody in that locker room expected the Bucs to be playing Friday evening.
They're able to recognize and appreciate a successful season while remaining aware of what was lost and hungry to get it back next season.