The Buchholz Bobcats had everything going for them on both sides of the field Monday night against the Eastside Rams. Ty Robertson and Wyatt Clarke threw a combined no-hitter and their offense scored 17 runs to secure the win. Buchholz extends their record to 5-1 while Eastside evens out at 3-3. 
Busy Start
Mondays game was full of Bobcats capitalizing on the Rams mistakes. Starting things off, Noah Hayse, a UCF commit, reached to first on an error and his courtesy runner, Ryan McCraken, put himself in scoring position on a passed ball. Buchholz responded first on a double by Anthony Wilkie to bring in McCraken.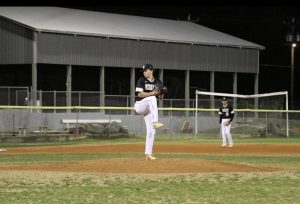 Robertson came out to the mound with a 1-0 lead but struggled with command early on. A very tight strike zone didn't help his case, but after three straight walks the bases were loaded for the Rams. They evened out the score on a wild pitch and a sacrifice fly put them ahead 2-1 on the Bobcats. This was the only inning Eastside scored and Buchholz took complete control of the game after the first.
Buchholz Takes the Lead
The Bobcats first base runner of the second came from Alex Kastensmidt, reaching to first on a dropped third strike. A stolen base and a passed ball put him in scoring position and Austin Cardozo doubled him in to even out the score at two a piece. Another stolen base and an error brought him in and Buchholz regained the lead 3-2.
Robertson regrouped himself and stepped out on the mound with the confidence everyone knew he had. Going 3-up-3-down with two strikeouts to end the second.
Good afternoon and good night from Ty Robertson. His confidence is back and he's regained control of the game after that first inning. @Bobcat_Baseball pic.twitter.com/Afw9Cg8oFv

— gabriela vitale (@gabyvitalee) March 15, 2022
Never Enough Insurance Runs
The top of the third is where Buchholz started their hot streak at the plate. Donny Heibert got things going with a single to first base, stealing second and reaching to third in the same play on an error. A sacrifice fly to left field by Hayse scored Heibert, continuing to extend the lead 4-2. Wilkie walked and came around to score on a hit and run by Kyle Brewer, reaching to third on an error. A pair of singles and errors plated two more runners to finish the inning for the Bobcats with a 7-2 lead.
Robertson wasted no time out on the mound retiring the Rams in order to put his red hot offense back at the plate.
A pitching change in the top of the fourth for the Rams didn't stop the Bobcats from extending their lead. Cooper Collins started to play small ball with a leadoff bunt single, and McCraken tripled him home to make it 8-2. A passed ball brought him across the plate and a single and a walk put two more runners in scoring position. Kastensmidt doubled to add 2 RBIs to his line and it was all Bobcats from here on out.
Ryan McCraken reaching to third on a beautiful hit to right field bringing in a run. The Bobcats keep extending their lead on Eastside. @Bobcat_Baseball pic.twitter.com/Dm9xWQpIYB

— gabriela vitale (@gabyvitalee) March 15, 2022
Stellar Relief Pitching
After a pair of walks to start the bottom of the fourth, Robertson left it to Clarke to take over on the mound. Clarke had one of the best relief appearances, striking out the side to erase the Rams runners.
You couldn't ask for better relief pitching from Wyatt Clarke. Came in for relief of Ty Robertson and struck out the side in the 4th. Bobcats are on the edge of run-ruling Eastside. @Bobcat_Baseball pic.twitter.com/TFEEQPzy7q

— gabriela vitale (@gabyvitalee) March 15, 2022
Buchholz made some noise in the fifth inning and ended up run-ruling Eastside, taking advantage of the three errors the Rams made. All nine Bobcat hitters went to the plate in the fifth inning, starting off with Collins and McCraken both reaching base on an error by the left fielder. They both scored to make it 13-2. After a single and a pair of free bags given to the Bobcats, Kastensmidt had his second RBI double of the night making it 16-2. A passed ball put him across the plate and scored the last run of the game for Buchholz.
Clarke headed back to the mound for his last inning of work and retired the Rams in order to end the game after the fifth inning. The Bobcats defeated Eastside 17-2 and improved their record to 5-1.
Alex Kastensmidt speaks on the Bobcats taking advantage of Eastside's mistakes and what confidence it gives the team after a 17-2 win. @Bobcat_Baseball pic.twitter.com/4RllXxNyBe

— gabriela vitale (@gabyvitalee) March 15, 2022
Look Ahead for Buchholz
The Bobcats look forward to hosting North Marion (3-2) on Wednesday at 7 p.m. They hope to keep their bats alive and extend their winning streak to keep their confidence.
Head Coach Ron Brooks speaks on what conversations he is having with his team after a win like this.
After the game, Robertson says how he needed to adjust and wait on his back hip to regain his command.