Thursday night, the second-seeded Duke Blue Devils are set to play the third-seeded Texas Tech Red Raiders in a Sweet 16 matchup of the 2022 NCAA men's basketball tournament.
Duke is coming off a nine-point win against seven-seed Michigan St., while Texas Tech is coming off a six-point win over eleven-seed Notre Dame.
The winner of Duke and Texas Tech will take on the winner of one-seed Gonzaga and four-seed Arkansas in the Elite 8.
Stars Shine Bright for Duke
At first glance, this matchup favors the team from Durham. They've got the historic prestige, the eminent coach and the esteemed roster of talent. They've got the higher seed, a better record and several top NBA prospects including freshman Paolo Banchero and AJ Griffin.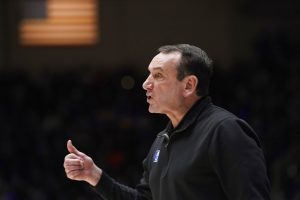 The Blue Devils went 30-6, bouncing back in a big way from last year's disappointment of a season's end.
Duke head coach, Mike "Coach K" Krzyzewski, is looking to lead his Devils to their sixth national championship during his tenure.
In fact, in addition to five NCAA titles, Coach K has garnered 12 Final Four appearances, 15 ACC tournament championships and 13 ACC regular-season titles in 42 seasons coaching at Duke. He also has three Olympic gold medals and holds the record for the most wins by men's basketball coach in Division 1.
Coach K's head coaching tenure has undoubtedly been legendary. The program he's built is undoubtedly historic. However, that isn't to say that season is and has been any less crucial to him than any other.
While he has announced it to officially be his last, it is yet to be over. There truly is no sweeter way to end a career like his, in a sport like this, than with that of which all covet most: the cutting of the nets and hoisting of a national championship.
Texas Tech is no easy feat, though. It's going to continue to take everything his guys got in order to move on and give Coach K a shot at the perfect conclusion to one of the most illustrious sport careers of all time.
https://twitter.com/DukeMBB/status/1506798772193427458?cxt=HHwWhICsyf_fnOkpAAAA
Texas Tech Looks to Play Spoiler
The Red Raiders have put together a very nice season, having gone 27-9. Unlike star-studded Duke, they're bolstered by a more balanced effort. They've got a solid core of six guys who put in their fair share of contributions on a nightly basis. Forward Bryson Williams leads the team at just under 14 points per game.
Texas Tech head coach, Mark Adams, is in his first season as a major college coach – truly making this a battle between the rookie and the vet.
First-year or not, though, coach Adams is doing his thing. He has his guys playing hard and playing well.
The Red Raiders are eyeing an upset Thursday evening – not just to the bracket seed-wise, but to the entire Duke men's basketball organization.
They have no sympathy for this being Coach K's final season. It's going to be a dog fight.
Y'all ready? pic.twitter.com/kKy8M2fHvT

— Texas Tech Basketball (@TexasTechMBB) March 24, 2022
Injury Report
Duke forward AJ Griffin had to exit the second-round win over Michigan State with a sprained ankle.
Fortunately for the Blue Devils and their faithful, he was able to practice Tuesday.
Additionally, he was reported to have just minimal soreness Wednesday.
Coach K was sure to let his status for the Sweet 16 be known, removing any question marks surrounding the first-year three-point sniper.
"He'll be ready to go" – Coach Krzyzewski
This news is absolutely huge for the two-seed in their aspirations to advance.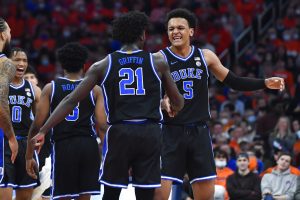 Elite 8 Lookahead
As aforementioned, the winner will move on to play whoever comes out of the Gonzaga vs. Arkansas game.
In that matchup, a trip to the Final Four will be on the line.