While Duke didn't see the win they wanted, head coach Mike (Coach K) Krzyzewski left nothing but a lasting mark on the team as he prepares for retirement.
Kyrie Irving reflects on the impact of Coach K, and how he recruited him out of high school:

"He's more than just a coach to me and countless others" pic.twitter.com/q1CngBg7Y9

— Nets Videos (@SNYNets) April 1, 2022
Coaching Career
Coach K started his college coaching career in 1974 when he was an assistant coach on Bob Knight's staff.  Notably, he was with Indiana for the 1974-75 season. Then from 1975 until 1980, he was the head coach for Army. In 1980, he became Duke's head coach. He has since been with the team for 41 seasons and this last season marks his 42nd season. In between all of this Coach K has also led the U.S. Men's basketball team to gold three times in the 2008, 2012 and 2016 Olympics.
Achievements
Coach K is a name that will be known in the basketball world forever. With five national championships, six gold medals, 10 consecutive top-10 Ap poll finishes, 12 National Coach of the Year honors and 1,170 career wins (most in the NCAA), he is one of the most accomplished coaches in the history of the sport.
Moving Forward
While all eyes were on Coach K on Saturday,  he wasn't focused on himself but on his team.
He stated he will be fine and either way, he knew going in the team would leave ecstatic or disappointed. He will always feel great about being in the arena and it is one of the things that he is going to miss the most after being there. Coach K has set a standard as to what a good college basketball coach is. He can walk away nothing but proud of the mark that he has left in the collegiate basketball world.
He is proud of what his guys have done no matter the outcome, stating they have been an amazing group for him.
As he heads into retirement Coach K couldn't ask for more.
"These kids made the last time in the arena an amazing one" pic.twitter.com/PnCGeRu4y3

— Duke Men's Basketball (@DukeMBB) April 3, 2022
Looking Ahead
As Duke prepares for the future and what is yet to come, handpicked by Coach K himself. Now, Jon Scheyer will be Duke's new head coach.  Scheyer played for Duke between 2006-20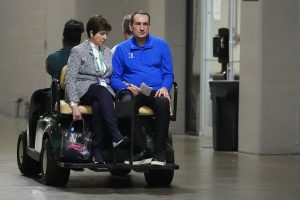 10. He then went to play for the Rio Grande Valley Vipers in the NBA D league and overseas with Maccabi Tel Aviv and Gran Canaria following his graduation from Duke. He began his assistant coaching year with Duke in the 2013-14 season and has been with the team since. This is Scheyer's first time as head coach and the team is excited to see what the future holds.