The 5-13 Buchholz Bobcats faced the 11-9 Forest High softball team at home Tuesday night.
Coming off a win against Tocoi Creek, the Bobcats came out with confidence in hopes of winning on their home field. Forest High's momentum eventually led them to the 7-0 win over Buchholz.
Game Trends
Starting strong on the mound, Buchholz senior pitcher Lindsey Orton pitched three strikeouts. The visiting Wildcats fought right back, making routine plays to obtain all three outs.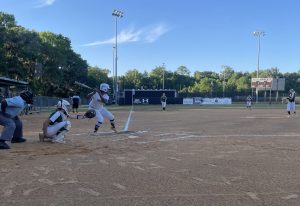 In the bottom of the second inning, the Bobcats came out focused at the plate in hopes of an early lead.
Forest began to make multiple fielding errors that gave the home team full advantage.
Sophomore Madison Staehnke played smart in the batters box, taking a walk to load the bases.
Although it quickly became three outs as Buchholz was unable to bring any runners home.
This defensive pattern of routine plays continued in the next two innings as neither team came close to scoring.
At the top of the 5th, the Wildcats scored the first run on a fielding error. Senior Leah Meyer hit a drive right down the right field foul line and was safe at first.
Buchholz's catcher made the throw to prevent her from stealing 3rd, but the missed ball was sent to the outfield. The score stood 0-1, Forest.
Run, Forest, Run!
Forest High leading by one, came out hot at the top of the 6th.
Starting them off, Senior Juli Gabriel laid out a soft bunt down 3rd. What followed was a line drive to short and a soft-laid out bunt down first to move Juli home.
Buchholz's defense could not make the play to first.
With two outs, junior Ashlynn Canganelli hit a hard line drive down center field. The crowd for Forest filled with excitement as both runners on base made it home. It changed the game for Buchholz as they now trailed by four.
Top of the 6th, Forest junior Ashlynn Canganelli hits a line drive out to center field. Score stands 0-4, with 2 outs.

— Hailey Hurst (@Haileyjhurst) April 18, 2023
In the final innings, the Buchholz Bobcats were unable to step up in the batter's box.
The final score stood at 7-0 Forest High.
The Bobcats will face Ridgeview High for their last away game of the season Thursday night.