By: TaylorAnn Eidam, Caroline King, Camden Nolde and Olivia Velardo
HAWTHORNE ― The Hawthorne Hornets handed the Parker Braves their third straight loss of the football season Friday night in a 46-6 victory.
The Hornets (3-0) are coming off of the 1A State Championship win, the first in school history.
Birthday Celebration Win 
Friday was a special day for Hawthorne's wide receiver and USF football commit Alvon Isaac. 
The Hornets senior scored three touchdowns with 103 receiving yards and celebrated his birthday. 
The play of the night came from an 80-yard kickoff return for a touchdown by Isaac with 51 seconds left in the third quarter to put the Hornets up 40-6. 
Isaac said that the "kickoff return" was his favorite memory from the game.
Starting Strong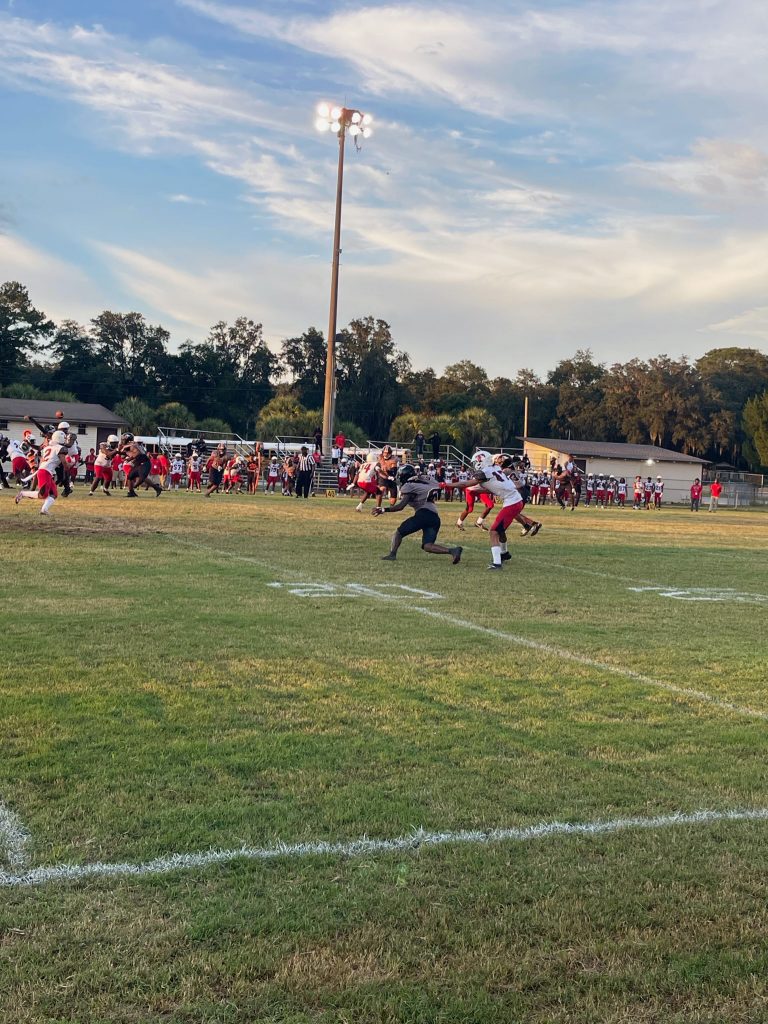 The Hornets were explosive from the start. Two minutes into the first quarter, after a Parker forced fumble, quarterback CJ Ingram threw a 25-yard touchdown pass to Isaac.
Ingram finished the game with 76.9%-completion percentage, constantly keeping the Braves (0-3) on their toes. 
It was all Hornets until running back Santroy Wilson ran the ball down the field to put the Braves on the board. 
Defense
The star of the show was Hawthorne's defense led by Andrew Zock, Tremain Johnson and Naizy Gent, who helped keep the Braves to 2-and-11 on third-down conversions.
Dustin Adkins, the Hornet's athletic director and defensive coordinator, cited Hawthorne's key to success:
"There's not one impact player over the other, it's 11 pieces working together and when they work together it looks good."
As a result, this domination over the Braves proved the Hornets' defensive mindset this season fighting to get back to the state championship.
Road to Another Perfect Season
As the Hornets navigate the season, it is exciting to see what the team will do in their upcoming games.
With impeccable teamwork and a great defense, the Hornets are truly preparing for another season full of wins.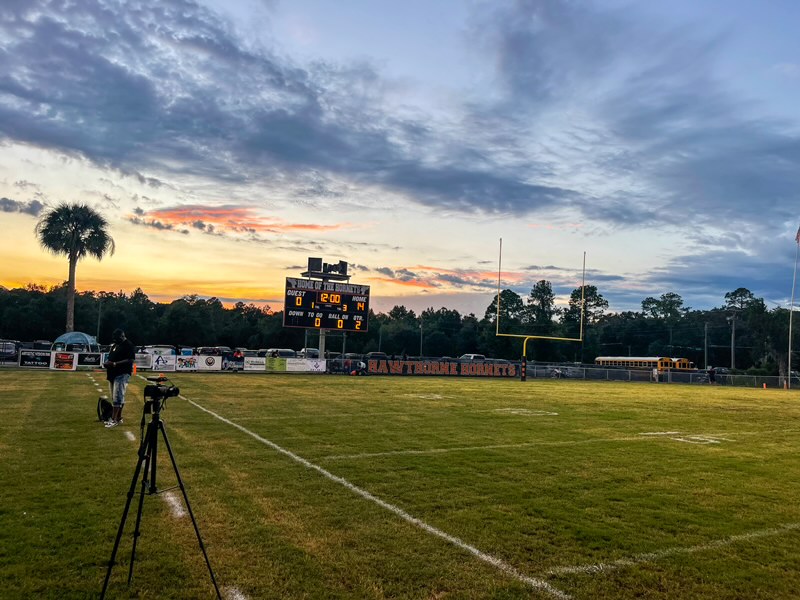 The Hornets have dominated the field against Middleburg 26-7, Newberry 40-10, and now Parker 46-6 and lead 1R Region 4 at 1-0. 
Up Next
Hawthorne competes at home against South Sumter Friday at 7:30 p.m. South Sumter (3-0) is ranked third in the state. 
Isaac said the Hornets need to keep playing their style.
"Physical off the jump, and keeping communication up is the strategy going into the next game," Isaac said.
He also mentioned his focus.
"To work on being more like a leader to the younger guys, especially the freshman."
Turning a year older, Isaac is ready to guide the Hornets through another challenging season.