By TaylorAnn Eidam and Camden Nolde
The Hawthorne Hornets crushed the host P.K. Yonge Blue Wave 50-2 on Friday night.
The Hornets (5-0) brought the same heat to the Blue Wave (2-2) in last year's matchup in a 46-6 win.
Former Gators Compete as Head Coaches
Hawthorne coach Cornelius Ingram and P.K. Yonge's Willie Jackson Jr. both played for the Florida Gators. Ingram played from 2004-08 as a tight end on a national championship team. Jackson was a wide receiver from 1990-93.
This was the first game they had faced each other.
Major Scoreboard Numbers
It was the fourth consecutive game the Hornets have put up 40-plus points. They routed South Sumter, 41-21, last week. These blowout wins are becoming routine for Hawthorne's football team.
Starting quarterback C.J. Ingram noted a key strategy to keeping the streak alive.
 "Just staying level-headed with both offense and defense executing and listening to our coaches, we should be fine," he said.
Attacking the Ball
This win would not have been the same without the powerhouse that is the Hornets' offense.
Junior C.J. Ingram is averaging 141.5 passing yards per game and 187.8 total yards per game.
Junior Keenon Johnson had two touchdowns and is averaging 117.8 rushing yards per game.
Senior Caleb Rollerson also was responsible for two touchdowns.
Senior and USF Commit Alvon Isaac, senior Matthew Mckinley-daniels, and sophomore Darian Bowie each had a touchdown.
Touchdown Hawthorne

#7 Cj Ingram beautiful throw to #8 Caleb Rollerson.

Hawthorne: 14
P.K. Yonge: 0@ESPNGainesville pic.twitter.com/1xgvLyaAVf

— Camden Nolde (@CamdenNolde) September 22, 2023
 The Future in Mind
The Hornets won their first FHSSA State Championship in school history last year. With talk of going back-to-back and high expectations this year, Ingram noted his approach as a leader.
"As a leader, it's been real good, like I said trying to stay level-headed, with the bigger goal in mind to win a state championship. I think we are in the right direction."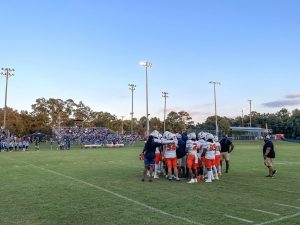 Upcoming
Hawthorne takes the road to St. Petersburg with a game against the Gibbs Gladiators (0-4) on Friday at 7:30 p.m. looking to keep up its momentum at the halfway point of the season.
"Keep the same approach, get healthy," Ingram said. "A lot of players are banged up, so we just have to get everyone healthy and back to 100%."