Any team that starts the season on a 24 game win streak is doing a lot of things right. From their dominant starting pitching, high powered offense and tight defense, the Florida softball team has been suffocating opponents in every aspect of the game.
This weekend, the Gators will travel to Auburn to take on the #3 ranked team in the nation. The Auburn Tigers enter the series with a 22-1 record and are aiming to dethrone the Gators from atop the SEC and national rankings. The last time these two teams matched up, the Gators eliminated the Tigers at the Women's College World Series with a walk off hit in extra innings. There is no doubt the Tigers will be looking to make a statement to begin conference play.
On the pitching side for the Gators, sophomore Aleshia Ocasio enters the series with the third-best ERA in the nation at a minuscule 0.40. Junior Delanie Gourley is seventh in the nation in strikeouts per game, averaging just under 11. Offensively, senior Kirsti Merritt has been on fire as of late. Over the past two weeks she is hitting .424 with two home runs, one double, 11 runs batted in, and 12 runs scored.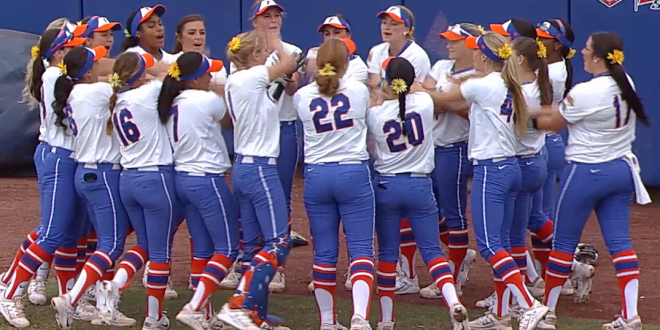 Offensively for the Tigers, junior Kasey Cooper and senior Tiffany Howard have led the charge. Cooper has provided the power, blasting seven home runs to go along with 36 RBI and an even .500 batting average. Howard has been the sparkplug, leading the team with a .545 batting average and 42 hits. Overall, the Tigers feature a balanced attack that will lead to an interesting match up against the Gator arms.
When asked about how his team will prepare for their upcoming matchup with Auburn, Florida coach Tim Walton believes that focusing on what they can control is key to coming out on top.
In the end, the series could be decided by whichever team is able to make the most plays while limiting unnecessary mistakes. The Gators will look to ride their stellar pitching while the Tigers hope to blast their way with the bats to the top of the standings.