The best of the NBA is back to New Orleans for the All-Star Weekend for the second time in four seasons. All-Star Game tip-off will be Sunday, at 8 p.m. Eastern Time.
Eastern Conference:
Starters: Kyrie Irving, DeMar DeRozan, LeBron James, Giannis Antetokounmpo, Jimmy Butler.
Reserves: Isaiah Thomas, John Wall, Carmelo Anthony (in replacement of Kevin Love), Kyle Lowry, Paul George, Kemba Walker, Paul Millsap.
Coach: Brad Stevens.
Western Conference:
Starters: Stephen Curry, James Harden, Kevin Durant, Kawhi Leonard, Anthony Davis.
Reserves: Russell Westbrook, Klay Thompson, Draymond Green, DeMarcus Cousins, Marc Gasol, DeAndre Jordan, Gordon Hayward.
Coach: Steve Kerr.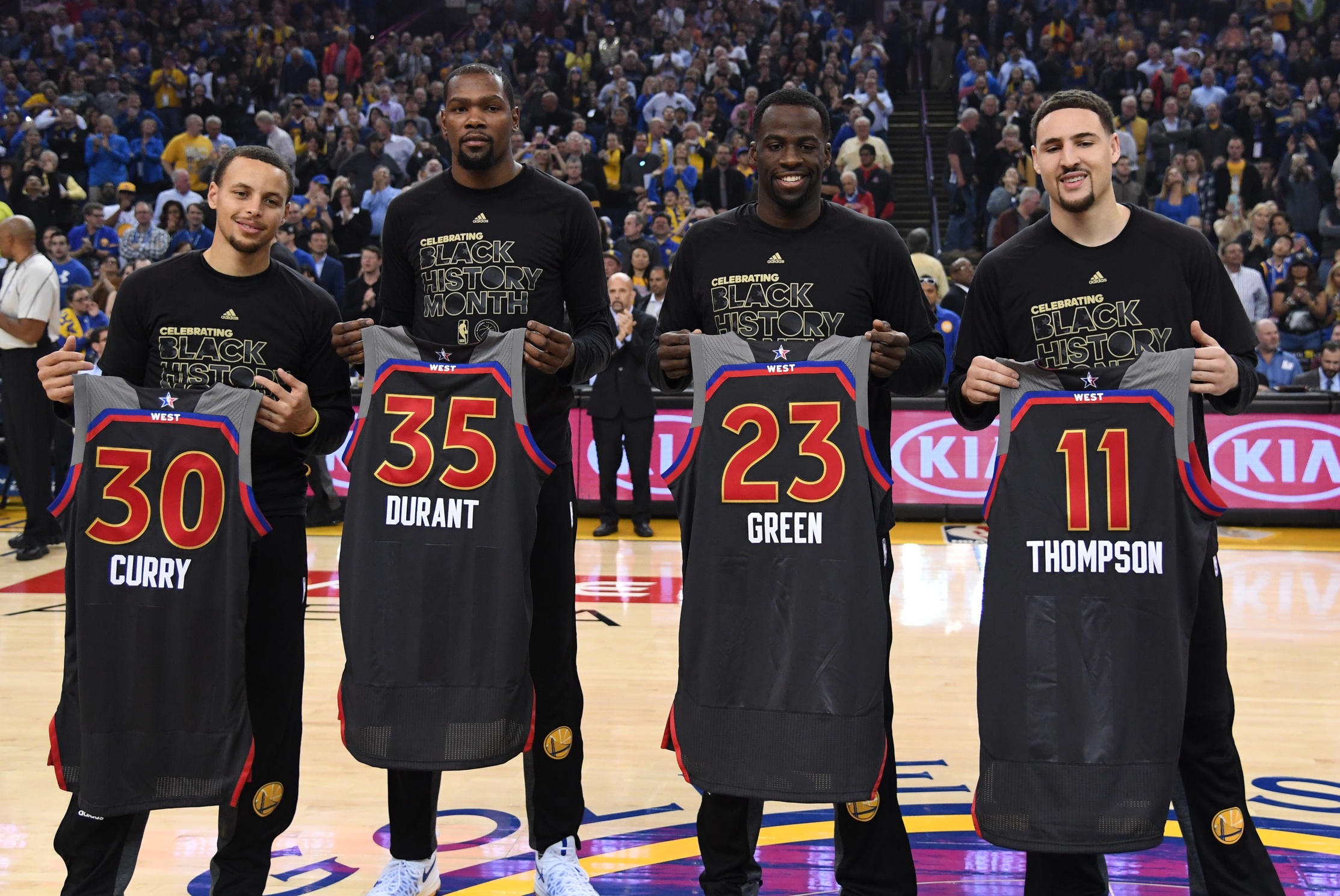 The Golden Fantastic Four
The Golden State Warriors, best record in the NBA (47-9), will have the most participants in this All-Star Game. Stephen Curry and Kevin Durant, players who have delighted basketball fans with their shooting abilities and all-around basketball, will be part of the West starting lineup. Curry continues to be the same off-the-dribble-three-point master even tough he is not having the same otherworldly performance from last season.
There was a lot of uncertainty about Durant's amount of possessions and shooting opportunities once he arrived to the Bay. But he has adapted to the Warriors' passing and quick transition system. Durant is averaging a career best 53.9-field-goal percentage.
Draymond Green and Klay Thompson will be in the reserves. Green is having an almost-triple-double season. He is averaging 10.2 points, 8.2 rebounds and 7.3 assists per game. He is definitely a polyvalent force and the X-factor of his team – he is also averaging 2.1 steals and 1.5 blocks per game. Thompson has continued using his marksman abilities to be one of the best catch-and-shoot players around the league. He is shooting 42.2 percent from the three-point line.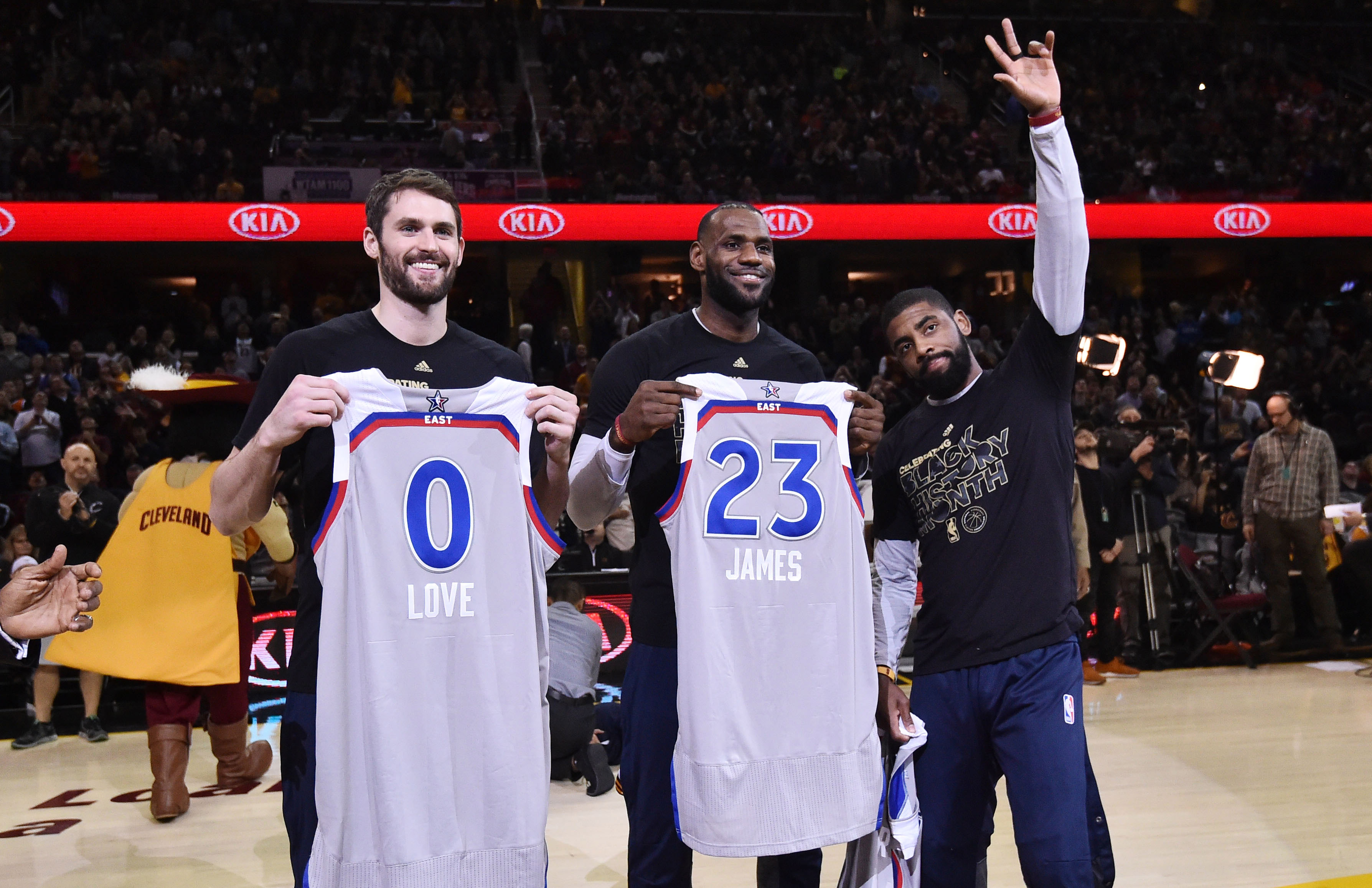 Representing The Land
The Cleveland Cavaliers would have had three players representing them if it was not because of Kevin Love's knee injury. They will still be well represented by LeBron James and Kyrie Irving. James and Irving are probably the best two-punch duo in the East. Both are averaging 25.9 and 24.4 points per game respectively. Not to mention that both players are the ones who have played the most minutes for their team – 37.5 and 35.2 minutes per game respectively.
Carmelo Anthony will replace Love in the starting lineup. Anthony has had a rough season because of trade speculations and an unstable relationship with Phil Jackson, the president of basketball operations for the New York Knicks. But he has been able to put great numbers that make him a worth pick to be among the very best of the East. Anthony is averaging 23.4 points and 6.1 rebounds per game.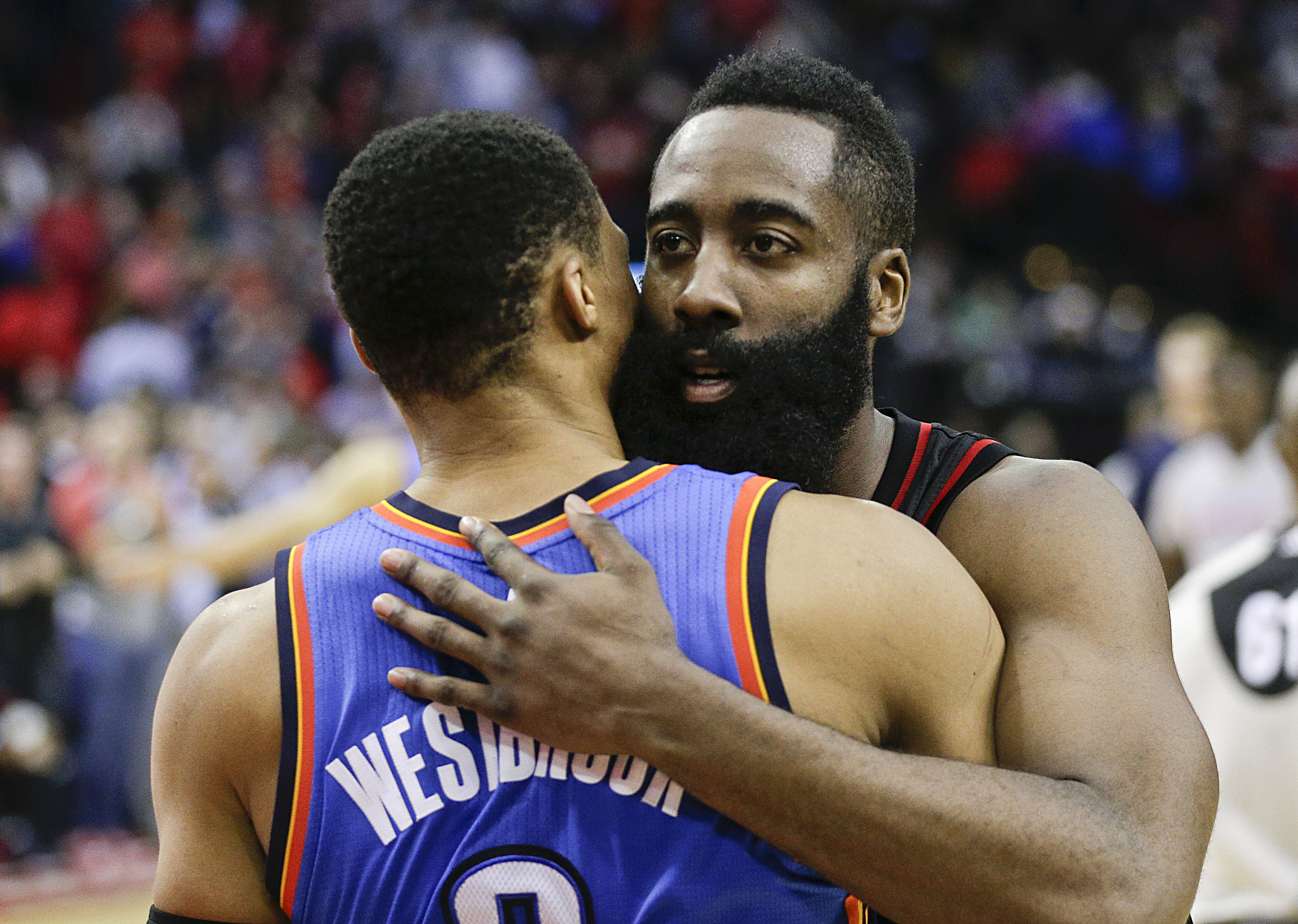 An All-Star Type of MVP Race
Russell Westbrook and James Harden have been the two most popular one-man shows around the league. Both players are having historical seasons and are trying to lead their respective teams to the promise land. Westbrook is breaking the record books on a weekly basis with his triple-double season – 31.1 points, 10.5 rebounds and 10.1 assists per game. Harden has silenced all of the critics that said that he could not be able to succeed at the point guard role for his team; he is averaging career highs in points, rebounds and assists – 29.2, 8.3 and 11.3 respectively.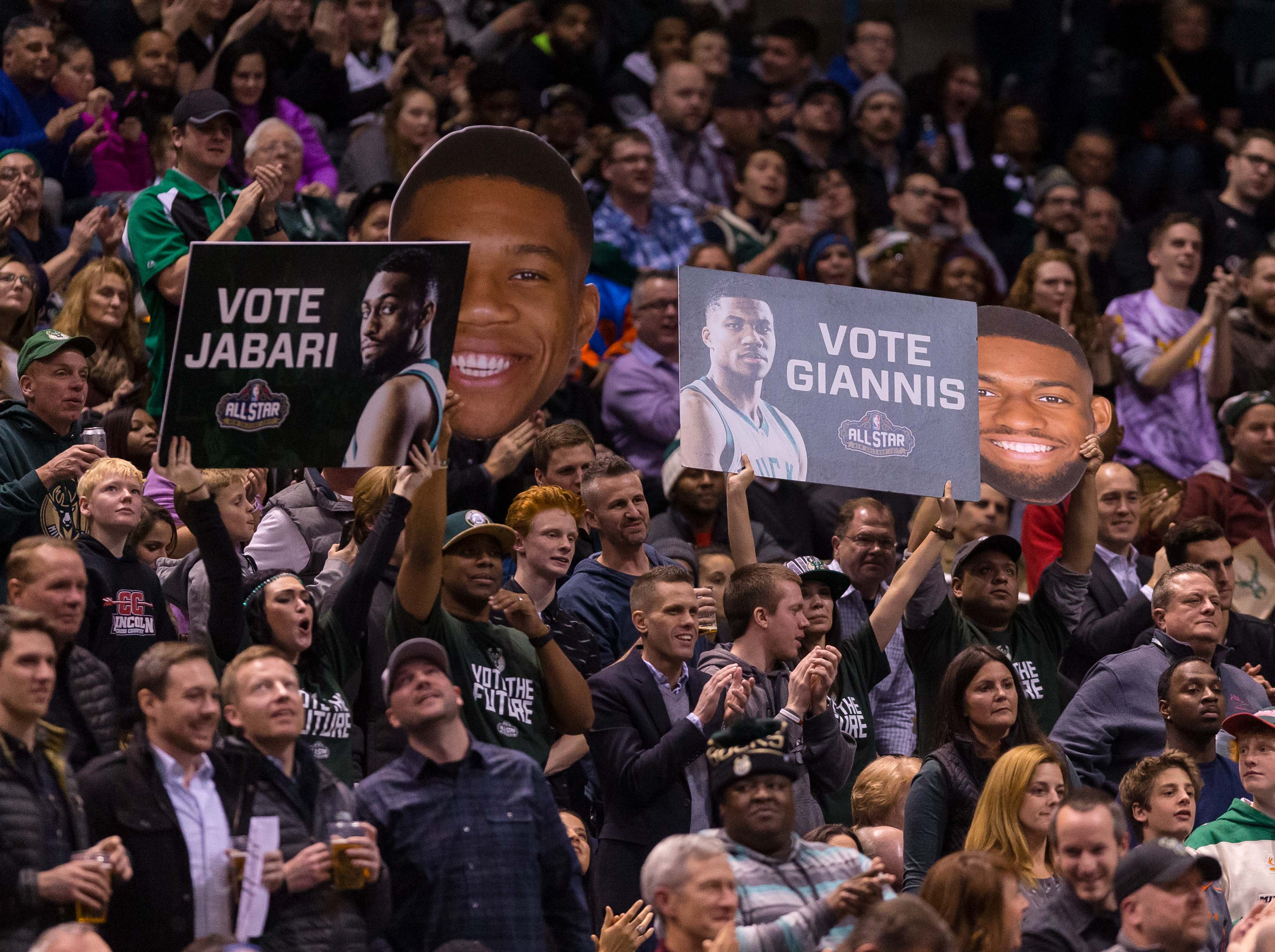 The First-Timer Greek
Giannis Antetokounmpo, the 22-year-old Greek sensation, is having an amazing season, in which he has been another example of how position roles in basketball cannot be fragmented anymore. Basketball is a synthesis. And Antetokounmpo is the perfect example of this. A 6'11" power forward who has embraced the orchestrator role of his team. He runs the offense like a 6'3" point guard and attacks the paint and play the low-post game like a pure big man. The Greek Freak is averaging 23.4 points, 8.6 rebounds and 5.5 assists per game.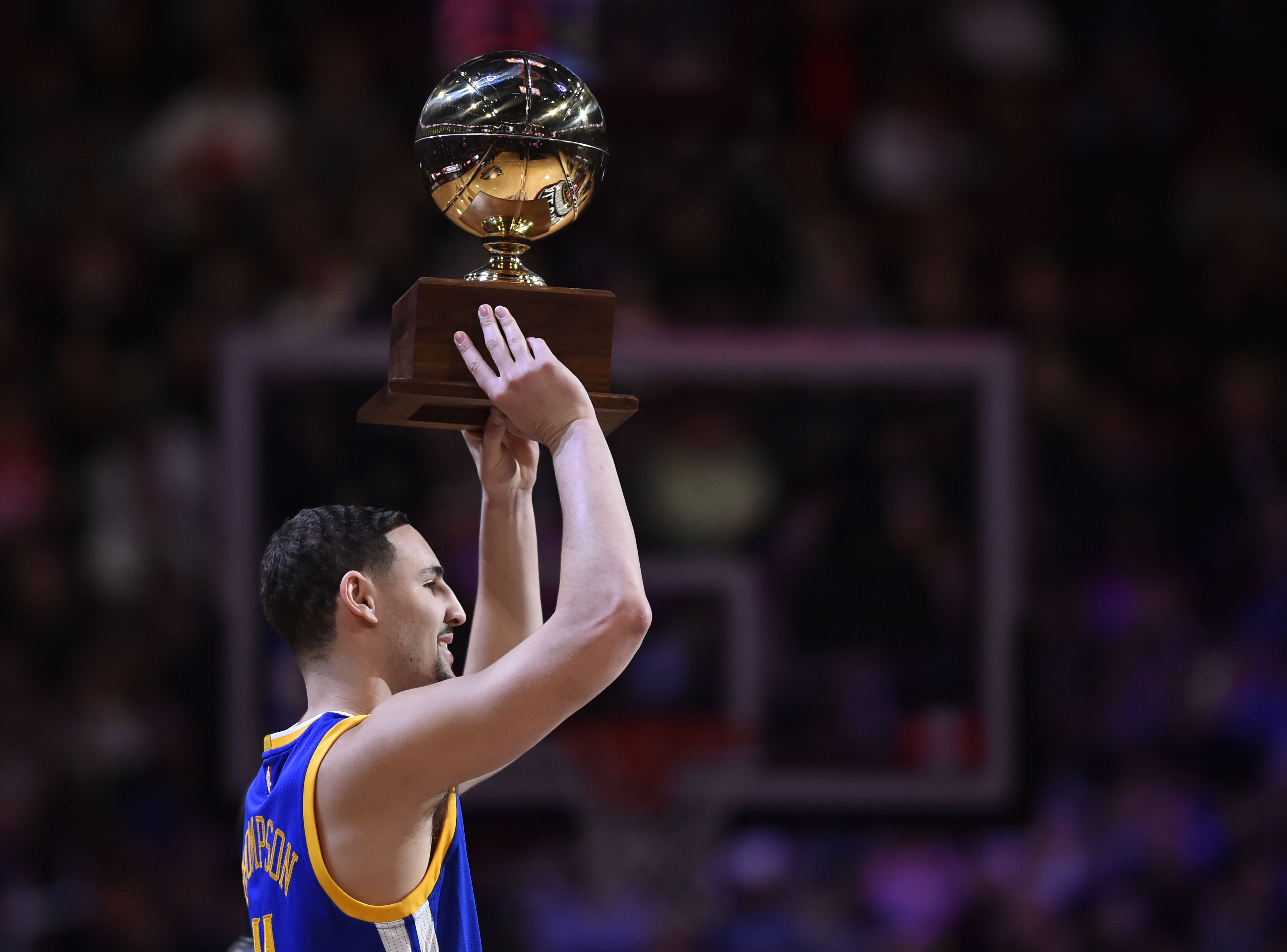 Friday's Events:
All-Star Celebrity Game (7 p.m. Eastern Time).
BBVA Compass Rising Stars Challenge (7 p.m. Eastern Time):
Team World: Joel Embiid, Danté Exum, Buddy Hield, Nikola Jokić, Trey Lyles, Emmanuel Mudiay, Jamal Murray, Kristaps Porzingis, Domantas Sabonis, Dario Šarić, Álex Abrines, Willy Hernangómez.
Team USA: Devin Booker, Malcolm Brogdon, Marquese Chriss, Brandon Ingram, Frank Kaminsky, Jahlil Okafor, D'Angelo Russell, Jonathon Simmons, Karl-Anthony Towns, Myles Turner.
Saturday's Events:
– Skills Challenge: Joel Embiid, Anthony Davis, Kristaps Porzingis, DeMarcus Cousins, Nikola Jokić, Gordon Hayward, Devin Booker, John Wall, Isaiah Thomas.
– Three-Point Contest: Klay Thompson, C.J. McCollum, Kyle Lowry, Kyrie Irving, Eric Gordon, Nick Young, Kemba Walker, Wesley Mathews.
– Slam Dunk Contest: Glenn Robinson III, Aaron Gordon, DeAndre Jordan, Derrick Jones Jr.