The Jacksonville Jaguars will be facing the New England Patriots in the AFC championship game on Saturday. This AFC game match-up has not happened since Jan 12, 1997. However, the team that has been their six times since then is the Pittsburgh Steelers. With a loss to the Jacksonville Jaguars last Sunday, the Steelers ended their season. Since then, questions have begun to circulate about the future of offensive coordinator Todd Haley.
Haley's contract is up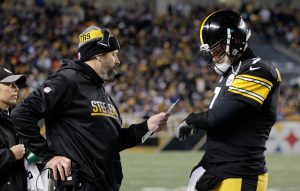 Haley's contract ended after the 2017 season and with the closing of the Steelers postseason play this could also mean the closing of Haley's Offensive Coordinator position with the Steelers.
It is not common to see coaches stay past their contracts with the Steelers and with the way the 2017 season ended, Haley does not have much to work with to get his contract extended. Although Pittsburgh has seen good production from their offense over his past six seasons with the Steelers, they have not won a Superbowl since their 2008 season. This is hard to testify with the Steelers Hall of Fame quarterback and some of the best talent in the NFL. The Steelers have, arguably, the best running back and wide receiver in the NFL right now along with a rookie receiver that proved himself to be an impressive threat. With all of this talent, the Steelers did not live up to their postseason aspirations.
Todd Haley's offense finished third in the NFL averaging 377.9 yards per game this season. Pittsburgh was third in passing with 273.8 yards and ranked eighth in points averaging 25.4.
Pittsburgh's offense was not enough to overcome the NFL's second-ranked defense in the nation as they fell to Jacksonville on Sunday with 42 points and 545 total yards.
Tensions building within the Organization
Some questions arose in preseason games when Haley left the sideline and took the booth. However, Haley returned to work on the sidelines once regular season play began.
Ben Roethlisberger has been with the Steelers since he was the 11th round pick overall in the 2004 NFL draft. Roethlisberger publicly announced on Sunday that he planned to return to play with Pittsburgh for the 2018 season.
Haley's offense has cut down on sacks to protect Roethlisberger and continued the offense's success. The question is if this success is enough to keep Haley on staff with tensions rising?
Ben Roethlisberger says that tensions within a professional football team are not uncommon.
Head football coach of the Steelers, Mike Tomlin, says that he is not going to address issues and decisions made on his coaching staff at the moment.
The Future of the Steelers
It seems that Pittsburgh did not end their 2017 season with a storybook ending. However, the Steelers off-season could come with several changes made in order to find a way to make it back to the Superbowl next season.