The Minnesota Vikings have a chance to be the first NFL team to play at home in a Super Bowl.  However, the Vikings first have to get through the Philadelphia Eagles on Sunday.
Why The Vikings Have A Chance to Play in the Super Bowl
The Vikings have gone 13-3 this season.  The team's no. 1 ranked defense helped the team get those winnings.  Defensive lineman Everson Griffen, safety Harrison Smith and cornerback Xavier Rhodes make it tough for offenses to find open players.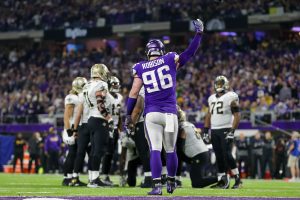 The defense also makes it tough for teams to complete third down conversions.  Minnesota's percentage for 3rd downs converted is 25.
With the Eagles having an inexperienced quarterback, the Vikings have a chance to shut down Philadephia's passing offense completely.
The Eagles' rushing offense could also struggle against Minnesota's defense.  In the postseason, Philadelphia is averaging three rushing yards.
Injuries Affecting the Team
The Vikings released an updated injury report Thursday.
Today's #Vikings injury report pic.twitter.com/lm3HZl2itj

— Minnesota Vikings (@Vikings) January 18, 2018
The good news in this injury report is wide receiver Adam Thielen returned to practice Thursday but was limited.  Thielen suffered a lower back injury that caused him to miss practice Wednesday.  In the regular season, Thielen led the Vikings with 91 catches for 1,276 yards and four touchdowns. In his last game, Thielen caught six passes for 74 yards against in the Vikings' divisional round win over the Saints.
Safety Anthony Harris who was out with a knee injury and center Pat Elflein, out with a shoulder injury, were full participants for the second straight day.
Sunday's Match Up
#WallpaperWednesday pic.twitter.com/KVvDYmmXLD

— Minnesota Vikings (@Vikings) January 17, 2018
The Vikings are ready to make their ninth NFC Championship appearance, but Minnesota's championship record is not so great.  Since going to their last Super Bowl in 1977, the Vikings are 0-5 in NFC Championship games.  The last time Minnesota played in the NFC Championship was 2010 against the Saints where they lost 31-28 in overtime.
Minnesota has a chance to make a lot of history Sunday night. A win will send them to the Super Bowl, which will be played at their stadium and the team will end the NFC Championship losing streak.
The game starts at 6:40 p.m. on FOX.