Wednesday night was a big night for four NBA teams. During the four Game 5 matchups, one team won the series and three teams now lead 3-2 in their series.
The Rockets take the series
On Wednesday night, the Houston Rockets defeated the Minnesota Timberwolves 122-104 to win the series 4-1.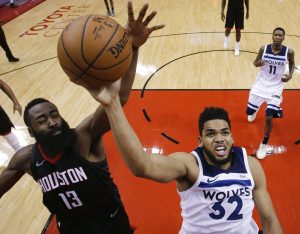 Houston came into this game ready to win. Center Clint Capela had 26 points and 15 rebounds and point-guard James Harden added 24 points. The Rockets came back after halftime to stretch their lead to secure their win. Houston made a series-high 18 3-pointers.
While Houston had an incredible night on the offense side, Harden said that their defense would ultimately make or break the team.
The Rockets will host the first two games of the Western Conference semi-finals. They will play against the winner of the Thunder-Jazz series.
LeBron buzzer-beating 3 grabbed Cavs Game 5 win
Last night, things ended on a high note for the Cleveland Cavaliers. LeBron James had an epic 44-point performance Wednesday night. And to top it all off, James locked in a 27-foot 3-point buzzer-beater to get Cleveland a 98-95 win over the Indiana Pacers. James wasn't the only one on the Cavs working hungry for a win. Kyle Korver threw in 19 points and six rebounds.
Down 49-56 at halftime, the Cavs started out the 3Q on a 21-4 run, scoring 32 points in the 3Q collectively. Cleveland held Indiana to 5-16 (.312) shooting from the field and 1-8 (.125) from beyond the arc in the 3Q.
BREAKING DOWN THE W → https://t.co/3KokxFglqw#WhateverItTakes pic.twitter.com/hKzKWwGRMB

— Cleveland Cavaliers (@cavs) April 26, 2018
With only three seconds left in the game and the score 95-95,  James caught an inbound pass from Jeff Green and made the three-point shot perfectly. James compared this moment to a childhood moment.
However, James said later in the interview that the series is not over. While the Cavs are up 3-2 in the series, they have to win one more game to advance to the second round.
Thunder lock in a Win against Jazz
Just when Jazz fans thought Utah was going to win the series, the Thunder came in and grabbed a win to secure Game 6.
Largest comeback win in Thunder history. Playoffs or otherwise. pic.twitter.com/CKrkf8R50u

— OKC THUNDER (@okcthunder) April 26, 2018
Russell Westbrook, the reigning NBA's Most Valuable Player, decided to take matters into his own hands and saved his team on Wednesday night. In just 44 minutes of playing time, Westbrook locked in 45 points and 15 rebounds. Teaming up with All-Star running buddy Paul George, the two scored 32 points over 8:34 of the third quarter. OKC was able to erase Utah's 25-point lead and head into the final quarter tied at 78-78.
Batman & Batman
PG & Russ have combined for 65 points so far in Game 5. pic.twitter.com/EsJfd8YjdM

— OKC THUNDER (@okcthunder) April 26, 2018
George said the team focused on getting that win.
OKC and Utah will face each other for Game 6 on Friday at 10:30 EST.
The Raptors take series lead against the Wizards
The top-seeded Raptors were able to grab a Game 5 108-98 win against the Washington Wizards.
Three – Two#WeTheNorth pic.twitter.com/bhe1B5vpac

— Toronto Raptors (@Raptors) April 26, 2018
DeMar DeRozan and Kyle Lowry secured 49 points for Toronto while John Wall and former Gator Bradley Beal combined for 46 points for Washington. Raptors Delon Wright added 18 off the bench which helped Toronto secure their win.
After the game, Lowry said Toronto came into this ready to win Game 5.
Now leading the series, Toronto has to win one more game. Game 6 is Friday at 7 p.m.