The Tampa Bay Buccaneers and Chicago Bears are ready to hopefully extend their lead in their divisions this Sunday.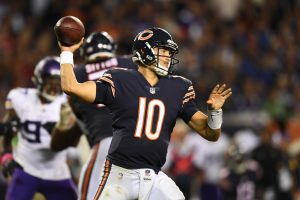 Both teams are exceeding expectations early in the year as the Buccaneers (2-1) are tied with New Orleans and Carolina for the NFC South lead. The Buccaneers are coming off a 30-27 loss to Pittsburgh in which they fell short after holding the Steelers scoreless in the second half and the Bears (2-1) are coming into the season with more expectations after four straight last-place finishes in their division, but now are in the sole possession of the NFC North lead for the first time since Week 16 of the 2013 season.
Quarterback Decision
The Buccaneers have a decision to make between Ryan Fitzpatrick and Jameis Winston. The Buccaneers released Freddie Martino to open up a roster spot for Winston who comes off the suspended list. The team has made no official announcement on who will start, but Bucs head coach Dirk Koetter knows who he will choose.
"It isn't a mystery in my mind," Koetter said to ESPN in an interview on Thursday.
Buccaneers QB Ryan Fitzpatrick leads the NFL with 1,230 yards passing, and second with 11 TD passes. LB Khalil Mack is tied for the league with four sacks– including two last week and leads the NFL with three forced fumbles.
Taking Time
Chicago Bears Quarterback Mitchell Trubisky will be making his 16th career start on Sunday. Although he hasn't played well enough this season, Trubisky said he continues to learn from coach Matt Nagry's system.
Mitchell Trubisky said of Matt Nagy's support: "It means a lot to me. Especially with how hard I am on myself. … I believe in him and this process. We're going to have a breakthrough."

— Chris Emma (@CEmma670) September 26, 2018
Trubisky's 77.8 rating is barely better than the 77.5 rating he had during the 2017 season under John Fox and has more interceptions (three) than touchdowns passes (two) since the 2018 season opener.
How to Watch
The Buccaneers take on the Bears this Sunday at Soldier Field at 1 p.m. The game will be aired on FOX.