It took them a 163rd game, but the Los Angeles Dodgers are back in the postseason for the sixth straight season. They will be going up against the National League East division winners, the Atlanta Braves.
The Dodgers continue to add to their playoff experience while they strive to win a World Series since 1985. The Braves have been in a rebuilding stage the last few seasons. However, they have put it all together and shocked the baseball world by dethroning the Washington Nationals as leaders of the division.
The last time the Braves played in the postseason was 2013 and the Dodgers were the team to eliminate them. Since 2013 there has been a new wave of young talent for both squads but their franchise players, Clayton Kershaw for the Dodgers and Freddie Freeman for the Braves, still remain to lead the charge.
Youth and Energetic vs Grizzled and Experienced
The majority of the players on the Atlanta Braves roster have little to none playoff experience. Atlanta rookie all-stars, Ronald Acuna Jr and Ozzie Albies, will be getting their first taste of October baseball. Both players were heavily depended on for their versatility on defense and consistent contribution on offense.
Can the inexperience for the Atlanta Braves play as an advantage to the Dodgers?  Dodger first baseman and outfielder, Cody Bellinger, believes that his experience after last season's deep playoff run can payoff going into this year's playoffs.
Game 1 Starters
The pitching matchup for game one has the left-hander Hyun- Jin Ryu for the Dodgers and right-handed flamethrower, Mike Foltynewicz for the Braves. Ryu has been battling injuries throughout the season but manager Dave Roberts wanted to use him for his consistent and efficient work to get hitters on both sides of the plate out.
The Braves are countering with their ace of the 2018 season. Foltynewicz earned his first all-star game selection this year and he also paced the Braves pitching staff with 13 wins and a 2.85 ERA. Foltynewicz is known for his electric fastball velocity and now he is being asked to use that fastball to start the Braves' playoff run on the right foot.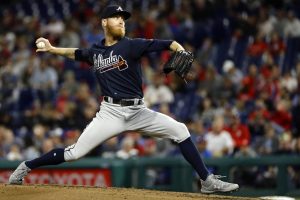 The Dodgers seek redemption and look to reach the World Series again after falling to the Houston Astros in seven games last year while the Braves look to showcase a new era of Atlanta Braves playoffs history. First pitch for game one is 8:37 p.m. at Dodger Stadium.