The Tampa Bay Lightning continue to be a top team in the NHL after grabbing another victory Sunday night against the Florida Panthers. This was the Lightning's only away game in a 7-game stretch.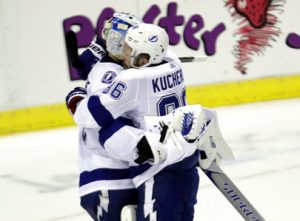 The Panthers entered the game on Sunday night with an impressive resume from their last 8 games defeating 6 teams who currently hold a playoff spot. One of these wins coming from an exciting 5-4 overtime victory against the  Capitals.
But the Panthers recent 6-2-0 run came to an end on Sunday night when they were defeated by the Lightning 5-2 in their home arena at the BB&T Center.
With this win, Tampa Bay holds the top spot in the Eastern Conference. Lightning goalie Louis Domingue had 25 saves in the game. He set a new franchise record for the Lightning grabbing his tenth win in a row. Domingue's last loss was in November against the Ducks. 
What Happened
The Lightning started off the game with an early lead in the first period. The first goal coming just under the four-minute mark from Nikita Kucherov.
In the second 20 minutes of play, the Lightning jumped out to a 2-0 lead. Steven Stamkos deflected the puck above Panther's goalie James Reimer for Stamkos 29th goal this season with 7:52 left to play in the second period.
Finally, the Panthers would score their first goal one minute later with an assist from Jonathan Huberdeau for Frank Vatrano to find the back of the net for his 19th goal of the season.
The Bolts would answer though at the end of the second period to make it a 3-1 game. Ryan Callahan scored his 6th goal of the season with 2:09 left to play in the second period.
With a little over one minute to play in the second period, the Panthers looked to be making a comeback with a goal from Denis Maligan to make it a one-score game.
To start the third period, the Panthers made a goalie change putting Roberto Luongo, who had a 4-5 record before the game on Sunday, in the net. The rest of the game though would be all Tampa Bay. The Lightning scored with 15:35 left to play in the third period making it a 4-1 lead.
To cap off this win for the Lightning, Kucherov would go on to get his second goal of the game with under a minute to play to make it a 3-point win. This was Kucherov's 24th goal this season.
https://twitter.com/TBLightning/status/1094784242863783937
Looking Ahead
The Lightning will look to add to their two-game winning streak this week. Tampa Btakeske on the Calgary Flames on Tuesday. The Flames are coming off a two-game losing streak.
The Panthers, on the other hand, will be hosting the Dallas Stars on Tuesday night. Puck drop is set for 7 p.m. Tuesday night.