Former Gators baseball player Brad Wilkerson was named assistant hitting coach for the New York Yankees Monday.
Wilkerson has spent the last three seasons as an assistant coach with Jacksonville University.
The New York Yankees today announced that Brad Wilkerson has been named an assistant hitting coach. pic.twitter.com/BF9kpxeAAx

— New York Yankees (@Yankees) January 30, 2023
College Success
Wilkerson played for the Gators from 1996-1998, He helped lead Florida to the College World Series both his first and last year. In '96, he was named to the All-tournament team.
As a junior, he accomplished history by becoming the first player to hit 20 home runs, steal 20 bases and win 10 games as a pitcher in the same season.
Additionally, he holds a handful school records with the Gators. He holds UF career records in batting average, slugging percentage and on-base percentage.
He was inducted into the University of Florida Hall of Fame in 2010 and, in 2012, the College Baseball Hall of Fame.
MLB Experience
Wilkerson was selected 33rd overall in the 1998 MLB draft by the Montreal Expos. He initially struggled in the minors until 2000 when he had a major breakthrough, hitting .336 with six home runs, 44 RBIs and 36 doubles in 66 games.
He was on pace to break the record for doubles in a season before being moved up to Triple A.
In 2001, he made his major league debut with the Expos, breaking their rookie home run record with 20. He continued to have a productive career with them until 2005 when we was traded to the Texas Rangers.
In 2007, he hit three home runs in one game, making him the third player to do so that season behind Carlos Lee and Alfonso Soriano.
After short stints with the Seattle Mariners and Toronto Blue Jays, he decided to hang up the cleats in 2009.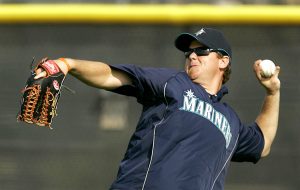 USA Baseball
Wilkerson won a Gold Medal for the United States in the 2000 Olympic games in Sydney, Australia. He went on to help coach for USA Baseball after his career ended.
Pre-Yankees Coaching Career
NEWS | Good luck to Coach Wilkerson on his new opportunity with the @Yankees! #JUPhinsUphttps://t.co/xoufXDPLfD

— Jacksonville Baseball (@JUBaseball) January 30, 2023
In 2014, he took on the role of coaching middle school baseball at the Kings Academy, leading the team to the championship in his first season.
Eventually, he was named volunteer coach of the year by U.S. Baseball in 2014.
The next season, he was offered the head coaching spot for the Varsity Baseball team.
Yankees
Now, Wilkerson joins an organization with the talent of 2022 AL MVP Aaron Judge, Giancarlo Stanton and Anthony Rizzo.
The former Gator will look to help the Yankees continue their recent success.