The Intercollegiate Women's Lacrosse Coaches Association released their 2023 preseason poll Monday.
The Gators were ranked No. 7.
Starting 2023 @ No. 7⃣ https://t.co/SyZDLOEqBC#FLax // #GoGators pic.twitter.com/nXv3JkxurR

— Gators Lacrosse (@GatorsLAX) January 30, 2023
Preseason Accolades
In her 13th season at the University of Florida, head coach Amanda O'Leary has lead the Gators to 11 conference championships. The most recent came just last year.
Florida enters the 2023 season with three players earning All-American honors: Danielle Pavinelli, Emma LoPinto and Sarah Reznick. They were all named to the 2023 USA Lacrosse Magazine All-America Second Team.
https://twitter.com/GatorsLAX/status/1612887304011673603?s=20&t=X1LUP3Sx_bMS5uvPo7L1WQ
LoPinto, finished the 2022 season with 97 points. She holds Florida's freshman scoring record and is fourth in the NCAA record books for most points in a rookie season.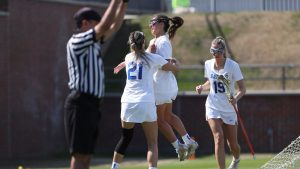 Pavinelli's 2022 season was a  season of career highs. She scored a career high seven goals against Arizona State and had career high three caused turnovers against Stony Brook.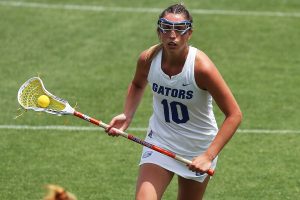 Reznick was one of three captains during the 2022 season and was named American Athletic Conference Goalkeeper of the year.
2022 Gator Women's Lacrosse
The Gators finished the 2022 regular season with a record of 17-5, going undefeated in conference play. They won the AAC Tournament, making this the 3rd time the team has won the title since they entered the conference in 2019.
Florida scored 338 goals last season, only allowing their opponents 208 goals, and finished their season in the quarterfinals at the NCAA Tournament. That was the seventh time the team has been since the program began.
Looking Ahead
Florida did make a few additions to their roster this off season.  They added Taylor Warehime, a transfer from the University of North Carolina, who was a captain on the 2022 National Champion team. They also added Emily Diaz, a fifth-year senior transfer from Bryant University, along with Madison Waters, a junior from the University of Southern California.
The No. 7 Gators will open the 2023 season with three straight ranked matchups.
They will host No.17 Michigan to open the season on February 12th, at Donald R. Dizney Stadium. Then on February 18th, the team will take a trip to Chapel Hill, North Carolina, to face the No.1  Tarheels, who are the 2022 National Champions. They will then return to Dizney Stadium on February 25th, to host No. 2 Maryland, who they fell to in the quarterfinals of the NCAA Tournament last season.