ALACHUA — The Santa Fe Raiders were hoping to get their first high school football win of the season on senior night Friday, but Eastside was not to be denied of repeating as Class 2S-District 7 champions with the 47-0 victory.
Rough Start for the Raiders
The Raiders (0-9) didn't even go a full play before losing possession. A hard tackle forced a fumble during the opening kick return that was recovered by the Rams. Senior tight end Chris Bishop later scored on 5-yard pass from quarterback Adrian Curtis.
Not long after, the Rams would have their second touchdown, a 33-yard pass from Curtis to senior wide receiver Tajoun Waldon to make the score 14-0 that grew to 27-0 entering the second quarter.
Ram Scoring Show
The Rams had no lack of touchdowns coming from a different player. They would finish with seven touchdowns, including a 62-yard fumble return by sophomore linebacker Demarco Daniels.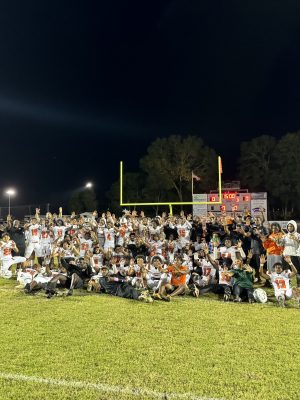 Rams coach Harold "Gator" Hoskins was pleased with his teams' performances.
"I feel like we just got a great group of guys," Hoskins said. "It's always been a mindset of next man up."
Rams Defense shines
The Rams defense snuffed the Raiders offense by allowing only 34 yards in the first half in taking a 41-0 lead at intermission. While the Raiders made some mistakes that kept their score at zero, the Rams made up for it on stops and sacks.
The Raiders' biggest play came from an interception by linebacker Ziren Turner at the start of the second half.
The Rams ended the game with three forced fumbles, all resulting in a touchdown. Curtis praised the defenses' performance.
"I feel like it gives our offense a little bit of energy," Curtis said. "When the defense gets stops and causes fumbles, it just gives us juice and motivation that we gotta go score."
Next Up
The teams close the regular season Friday. The Rams will host Gainesville High (1-8) at Citizens Field at 7:30 p.m. Santa Fe pays a visit to Fort White for a 7:30 p.m. kickoff.