A recent flood of sexual harassment allegations against organizations and their higher-ups across various industries got deeper with scandals in the Dallas Mavericks workplace. Sports Illustrated released an article that shed an all-but-flattering light on the franchise's office culture. Mark Cuban, owner of the Mavs is now under fire as ongoing investigations raise questions about what action needs to be taken.
Exclusive: Inside the corrosive workplace culture of the Dallas Mavericks (by @jon_wertheim and @jessicawluther) https://t.co/ZXyhRLQKS3 pic.twitter.com/ef24TtgtwJ

— Sports Illustrated (@SInow) February 21, 2018
What Happened?
The Sports Illustrated exposé tells the story of a female employee and a disturbing conversation she had in 2010 with Terdema Ussery, CEO of the franchise. During the conversation, as Sports Illustrated reported, Ussery continued to make comments threatening sexual assault.
The article makes it clear that the woman was previously aware of Ussery's reputation for inappropriate conduct. It stated that when she shared the details of the conversation with other female employees, none were surprised.
Several came forward claiming that Ussery has made many offensive comments and suggestions, even asking for sex on multiple occasions. The investigative piece stated the following:
"Ussery, who left the Mavericks in 2015, was hardly alone. Interviews with more than a dozen former and current Mavericks employees in different departments, conducted during a months-long SPORTS ILLUSTRATED investigation, paint a picture of a corporate culture rife with misogyny and predatory sexual behavior: alleged public fondling by the team president; outright domestic assault by a high-profile member of the Mavs.com staff; unsupportive or even intimidating responses from superiors who heard complaints of inappropriate behavior from their employees; even an employee who openly watched pornography at his desk."
The Mavs.com staffer mentioned in the above outtake is Earl K. Snead. Snead admittedly committed domestic abuse against women he dated who worked for the Mavericks.
After his arrest and guilty plea in 2011, Cuban decided to keep him on staff; however, in the wake of SI's exposé Cuban admitted full responsibility for a poor choice in keeping Snead on staff and has since fired him.
Now that the issues with Ussery, Snead and other Mavs employees are resurfacing, the public is demanding disciplinary action against Cuban and the Mavs.
The Mavs response
Immediately after the piece's publication, the Mavericks made a public statement. The statement emphasized the team's embarrassment with the issue and the seriousness with which the franchise plans to move forward.
The Dallas Mavericks issue the following statement on an upcoming Sports Illustrated article:https://t.co/GQ8bOHTBln

— Dallas Mavericks (@dallasmavs) February 21, 2018
Cuban's knowledge and involvement
Several sources cite Cuban claiming that he knew nothing of the workplace misconduct. Nobody interviewed in the investigations since Cuban became the owner in 2000 claimed he was involved in any way.
When dealing with media and the NBA, Cuban is openly embarrassed and thorough in his responses, leading some to believe he really was unaware. Others aren't so sure.
Mark Cuban isn't just the owner of the Mavs. He's a super fan. He sits courtside at most games. He courts free agents. He is very hands-on. It's hard to believe he was in the dark about anything. https://t.co/GmSJiNJNlK

— Sharrell (@sharrell86) February 21, 2018
Cuban has made a name for himself as a hands-on business owner adamant about micro-management. According to Sports Illustrated, Cuban claims that his focus is on basketball; he trusted his CEO and HR staff on the business side.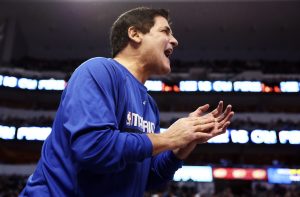 Cuban's Liability
Media and the public push for action on the grounds of Article 35A of the NBA Constitution whether Cuban knew of the misconduct or not. Article 35A states: "The Commissioner shall have the power to suspend for a definite or indefinite period or to impose a fine not exceeding $1,000,000, or inflict both such suspension and fine upon any person who, in his opinion, shall have been guilty of conduct prejudicial or detrimental to the Association. "
This applies if Cuban was aware in that his failure to take action was detrimental. If he wasn't aware, many argue that he is liable for his failure to properly supervise his staff.
Moving forward
As of now, investigations are still ongoing and decisions about action against Cuban are yet to be made. The NBA's next steps in this issue revolve around finishing the investigation.