The Atlanta Falcons gave the New York Giants another loss to add to their record Monday night. The Falcons beat the Giants 23-20. Atlanta quarterback Matt Ryan put up some MVP numbers in the game leading the Falcons to their second straight victory. The Falcons are now 3-4 while the Giants are 1-6.
Monday Night W! pic.twitter.com/TftFRH10Wi

— Atlanta Falcons (@AtlantaFalcons) October 23, 2018
"Matty Ice" Puts Up Numbers
Ryan finished 31 of 39 for 379 yards and one touchdown. His 47-yard touchdown pass to Marvin Hall was a highlight of the game being the first of two key plays for Atlanta.
Ryan was the MVP of the league in 2016 when Atlanta went to the Super Bowl. This year, the team hasn't been impressive as a whole, but Ryan's numbers still look like his MVP ones. He has a 71.1 percent completion rate, 2,335 yards passing, 15 touchdowns and only two interceptions.
He even set the franchise record for most pass attempts without an interception (203). The last QB to hold that record for them was Steve Bartkowski with 197.
Temp Kicker Looks Good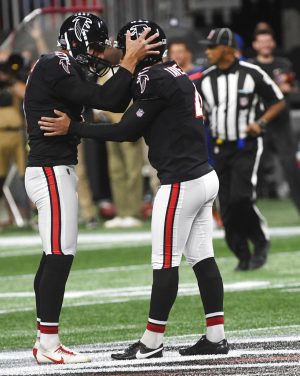 Since Atlanta kicker Matt Bryant is out with a hamstring injury, the team needed a replacement. That came in the form of Giorgio Tavecchio, the Milan, Italy native who impressed in his debut with the team.
The former Oakland Raiders kicker made all three of his field goal attempts, including a 56-yarder which was the longest of his career.
Now Bryant will surely come back in when he is healthy again, but Tavecchio made his NFL stock higher by his performance in this game.
Dismal Giants
The Giants, on the other hand, do not look great at all right now. They are on a four-game losing streak and just can't seem to get a win.
Quarterback Eli Manning was sacked four times, but still somehow managed to complete 27 of 38 for 399 yards. Odell Beckham Jr. picked up 143 yards and Sterling Shepard ended up with 167 yards.
Their only two touchdowns were scored in the final minutes of the game, one by Saquon Barkley and another by Beckham. The Falcons were able to shut down Barkley as they held him to 43 yards on 14 carries and nine catches for 51 yards. It was Barkley's second-lowest rushing output of the season.
Up Next
The New York Giants will take on the Washington Redskins this Sunday. The Falcons will also take on the Redskins, but on Nov. 4 after their bye week.