Tuesday night's match-up between the Vanderbilt Commodores and the Texas A&M Aggies features two teams trying to claw their way out of the bottom half of the SEC standings. Both teams own a 3-5 conference record. Vanderbilt has won two of their past three games, while Texas A&M has dropped three of their past five.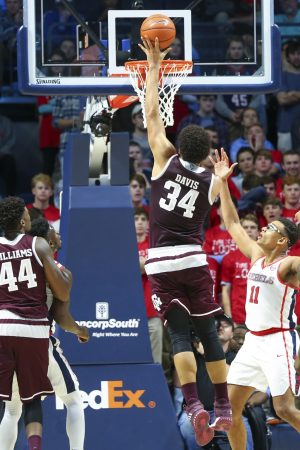 The Tyler Davis Show
When watching the Aggies, it's not just No.34's afro that sticks out, it's his playing style. Davis is one of the few remaining core players of the Aggies' 2015-2016 Sweet 16 run that are still left on the team. Davis is averaging 14 points and 7.4 rebounds per game, which ranks fifth in the SEC in boards per contest. The sophomore stud has at least 16 points in three of TAMU's past five games, and has recorded a double-double four separate times this season. In the team's most recent game vs. West Virginia, Davis scored 19 points on 7-10 shooting, while grabbing 18 rebounds.+
Downtown Brigade
The first thing that comes to mid when thinking about Vanderbilt is their ability to score at will from beyond the arc. The Commodores rank 29th in the nation in three-point percentage and first in the SEC, knocking down 39.1% of their looks from three-point range. The 'Dores have five different players shooting above 36% from beyond the arc. Riley LaChance is leading the nation in three-point percentage, finishing on 52.4% of his shots from downtown. Vandy's best overall scoring threat is Matthew Fisher-Davis, who's averaging 15.9 points per game on 41.7% shooting the from the field. Fisher-Davis is also an efficient three-point shooter, knocking down 39.3% of his shots from three-point land.
Analytics
Per KenPom, Vanderbilt ranks 25th in offensive efficiency, while Texas A&M comes in at 71st. In defensive efficiency, the Commodores rank 128th, while the Aggies come in at 61st. Neither team is listed in Joe Lunardi's latest Bracketology or the AP Top 25. Vanderbilt is ranked 52nd in RPI, while Vanderbilt comes in at 75th. The Aggies allow about three less points per game than the Commodores, while knocking down 3% more of their shots from the field. Texas A&M also come away with about two more blocks and steals per game than Vanderbilt.
Aggie Basketball's Billy Kennedy and Tyler Davis spoke to the media ahead of Tuesday's matchup with Vanderbilt: https://t.co/HHduch95hW

— TexAgs (@TexAgs) January 30, 2017
Historically
Texas A&M has only played Vanderbilt seven times in program history, coming away with a 2-5 record against the Commodores. The two team's have played at least once every single season since the Aggies came into the SEC in 2013. Before Texas A&M came to the Southeastern Conference, the two teams had only played once, with the match-up coming all the way back in 1955. The most recent match-up between the two programs came on March 5, 2016, when the Aggies took down the Commodores, 76-67.
Final highlights vs Vanderbilt pic.twitter.com/xqNMFV6BUH

— Cyclone Basketball (@CycloneMBB) January 28, 2017
The game tips off at 9 p.m. and can be seen on ESPNU or on any device with WatchESPN capabilities.