The Cleveland Cavaliers are looking to close out the Boston Celtics in Game 5 of the Eastern Conference Finals tonight. The series is shifting back to Boston after the teams split two games in Cleveland. The Cavs bounced back with a 112-99 win in Game 4 after being upset in Game 3. They now lead the series 3-1 and a match-up with the Golden State Warriors in the NBA Finals is looming if Cleveland manages to take care of business tonight.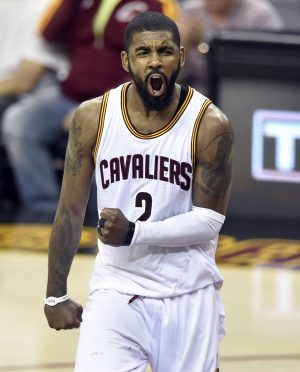 Keys to Success
Cleveland
If the Cavs want to finish this series in Boston tonight, they'll continue to rely on massive production from their stars. Kyrie Irving, LeBron James, and Kevin Love have averaged a combined 79 points per game through the first four games. LeBron scored 34 points despite picking up four early fouls in Game 4. He'll look to stay out of foul trouble tonight.
One might think the Cavs would struggle without LeBron on the floor, but that wasn't the case towards the end of the second quarter and the start of the third during Game 4. Kyrie Irving rose to the occasion with 33 of his 42 total points during a 19-minute stretch after LeBron went to the bench. The last piece of the "Big 3", Kevin Love, lit it up in Boston earlier in the series. He totaled 32 points in Game 1 and 21 points in Game 2. Boston head coach Brad Stevens touched on how great Cleveland is, even if LeBron isn't on the court.
Boston
The biggest key moving forward for the Celtics is to continue to find offensive production from others in the absence of star point guard Isaiah Thomas, who was ruled out for the remainder of the postseason with a hip injury after Game 2.
In Game 3, it was guard Marcus Smart who stepped up for Boston with a career-high 27 points. In Game 4, the Celtics lacked a premier scoring performance. Many of their starters were efficient but no one scored over 20 points. Perhaps the scoring boost can come from former Florida Gator Al Horford. He's averaged just over 13 points through the first four games of the series. Boston seemed to be clicking on all cylinders in the first half of Game 4, but guard Avery Bradley says the team forced things offensively in the second half.
Game Notes
Coverage for this game begins tonight at 7:30 p.m. on ESPN 98.1 FM & 850 AM WRUF and will be televised on TNT. If the Celtics win, Game 6 will be on Saturday in Cleveland. If Cleveland wins the series tonight, the NBA Finals will begin on June 1.