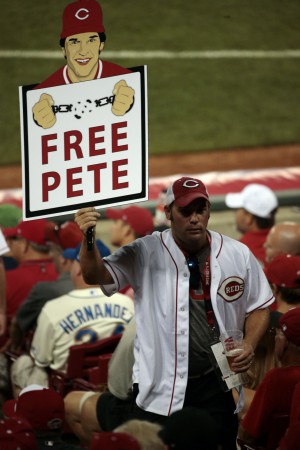 Major League Baseball Commissioner Rob Manfred informed the career hits leader Pete Rose that his permanent ban from baseball will stay in place.
Rose's plea for reinstatement was rejected citing his continued gambling and evidence that he bet on games while playing for the Cincinnati Reds.
Rose was initially banned for life from Major League Baseball in August of 1989 for betting on games.
Rose first applied for reinstatement in September 1997 and met with then commissioner Bud Selig in November 2002, but Selig never ruled on Rose's application.
Manfred noted that Rose is an "unacceptable risk" because he continues to bet on baseball games legally, even though gambling is what got him in trouble in the first place. The commissioner also noted that Rose's continued ban will not affect his eligibility for the Hall of Fame and he can continue to make appearances at MLB connected ceremonial activities.
Rose could always apply again but he would have to show after a period of time that has reconfigured his life in order to achieve that reinstatement.