The Florida Gator volleyball team finished off its four-game road stint with a win Wednesday night.
The 11th ranked Gators topped in-state rival Florida State 3-1 in the annual Fresh From Florida Sunshine Showdown in Tallahassee.
 How It Went Down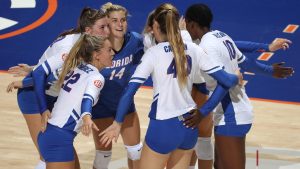 Florida grabbed an early lead in the first set 7-1 thanks to a pair of kills and a block by senior middle blocker Taelor Kellum.
FSU closed it to 17-15, but a combination of Gator hitting and Seminole errors ended the first set.
Junior middle blocker Rachael Kramer recorded three of her nine kills on the night during the first set.
Set 2 saw a start similar to its predecessor. The Gators jumped out 8-2 off Paige Hammons's three kills over that stretch.
The Seminoles once again made it close at 24-22, but a kill by Kellum put the Gators up 2-0 in the match.
Florida would drop the third set as they came off hitting .258 as a team in second set to hitting just .069 in the third while recording only eight kills.
https://twitter.com/GatorsVB/status/1040024834787495936
The two teams would trade points to start Set 4, but Florida pulled out to a 15-9 advantage. Strong hitting in the fourth set (.290) helped seal the deal for the Gators.
Credit to the Game Plan
"I think the key stat is that Florida State, who is averaging a hitting efficiency well over .300 on the year, only hit .162," Gator coach Mary Wise said. "How does that happen? That's game-planning."
Wise gave credit to associate head coaches Dave Boos and Shannon Wells going over game tape to find the right strategy.
She said the Gators spent two days working on serving in order to limit the hitting efficiency of the Seminoles.
Rachael Kramer also mentioned the amount of game-planning and scouting that went into this match.
"We spent a lot of time this week as a team really trying figure in their offense what they do so well (so) that we can stop them," she said.
.@alliemonz ➡️ @Rachael5Kramer means high fives all around!#GoGators pic.twitter.com/RhUHShfZeF

— Gators Volleyball (@GatorsVB) September 13, 2018
Kramer said the team will definitely grow from playing a team like Florida State in an environment like Tully Gymnasium.
Wise saw some room for improvement following the win.
"Kills didn't come easy. They still don't come easy," she said. "I think there's a whole lot left."
Standout Performances
Rachael Kramer set a season-high in blocks with seven, along with nine kills and finishing the match hitting at a .385 clip.
Freshman outside hitter Thayer Hall finished with double digit kills (12) again and posted three blocks. She has recorded double-digit kills in all but one match this season.
"I think before Thayer's done she's going to be one of our best left-side blockers we've ever had," Wise said.
Holly Carlton filled up the stat sheet as well with nine kills, five blocks and two assists.
What's Next
Florida returns home for the Honda of Gainesville Gator Invitational before opening up conference play.
They will face Jacksonville on Friday at 12 p.m. and FIU later that night at 7 p.m. They will wrap up on Saturday at 2 p.m. against Army.