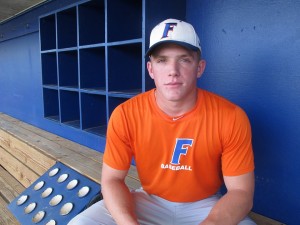 Gators have high hopes for 2014
With fall practice in full swing, the Florida baseball team is in the midst of preparing for what they hope will be a record-setting season.
Florida is looking to advance to the NCAA Tournament for a school record seventh-straight season under head coach Kevin O'Sullivan. The Gators are also hoping to return to the College World Series for the fourth time in five seasons, something the program has never accomplished before in its 100-year history.
Florida will look to bounce back this year after a disappointing end to last season with an early exit in the NCAA Regionals. The Gators have a strong core of experienced players returning, however, including sophomore outfielder Harrison Bader.
"We have very high expectations," said Bader. "There's always that high expectation for Florida baseball teams going into every season. Although last year wasn't necessarily the most impressive season, we definitely have a lot of positivity going into this year with all the talent we have."
That talent includes 15 freshmen that were ranked as the #1 recruiting class in the country by both Collegiate Baseball and Baseball America. Without a single senior on the roster entering this season, the Gators will need to rely on several freshmen to make contributions once the season begins.
Making the adjustment to big-time collegiate baseball can be difficult for some, but Bader's been doing his best to help develop the younger guys before the season begins in February. Bader led the Gators in batting average at .312 last season as a true freshman, and he's trying to use his own experiences to help prepare this year's freshmen for what they'll face while playing at one of the country's elite baseball programs.
"The most important thing that the coaches really stressed to us last year as freshmen was to just relax. Obviously there's a lot of pressure, but when you really just take each at-bat pitch-by-pitch and enjoy the moment for what it is, it sort of slows down," said Bader. "So I'm just trying to stress that to them."
With so many young players on the roster, Florida will need its few veterans to step up as leaders for this year's squad. Gators head coach Kevin O'Sullivan has seen some of the veterans take leadership roles so far during the preseason, and he looks for more to emerge once the season begins.
"Leaders sometimes don't emerge often times until the spring when you start playing games. But we've had a really good preseason in the weight room and that type of thing. We've been out here (practicing) a couple weeks now, and intrasquad (scrimmages) have been competitive. There are quite a few battles going on right now," said O'Sullivan.
With so many unknowns heading into the spring, Florida probably won't have a consistent starting lineup until after the first few games. O'Sullivan won't have to wait long to see what his team can do against top competition, however, as the Gators boast one of the nation's toughest non-conference schedules that includes series against the likes of Miami, Illinois, and Connecticut early on.
 "Our schedule is as good as anybody's in the country," said O'Sullivan. "I think it's important you challenge your team, and I think we've done that with this schedule."
The Gators will find out quickly what kind of team they have, and Gator players and fans are excited to see what this year has in store. The Gator Nation will get their first look at this year's squad on February 14th, when Florida hosts the Maryland Terrapins to begin the season.